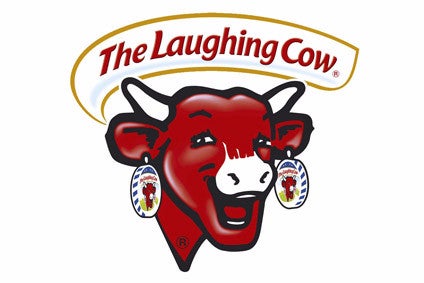 Groupe Bel, the French cheese maker, has booked flat consolidated sales for the first nine months of 2016 of EUR2.18bn (US$2.42bn) versus the corresponding period last year.
Bel said the acquisition of Moroccan dairy Safilait, which took place in September 2015, "positively impacted sales in the first nine months to the tune of EUR58m, or 2.7%, while foreign exchange fluctuations negatively impacted sales by 1.4%".
Sales in Europe fell 3.6% in the first nine months of 2016 to EUR1.16bn. Bel's sales in a combined geographic region of the Middle East and Greater Africa rose 3.6% to EUR620m. In the combined region of the Americas and Asia Pacific, sales grew 5.1% to EUR405m.
Third-quarter sales were EUR731m, a result Bel said was in line with the performance the company reported in the third quarter of 2015. However, Bel said at constant exchange rates and scope of consolidation, its sales declined 1.3% organically for the quarter.
Bel reported "a slight increase" in sales volumes in Europe, which the Boursin owner said was driven by "the strong positioning" of the group's core brands. However, the company added: "Against a backdrop of fierce competition and a decline in dairy raw material prices, promotional activities were beefed up, and the foreign exchange impact deteriorated further in Q3 2016."
The company said its sales growth in the Middle East and Greater Africa "stalled" in the third quarter in a region "beset by numerous wars and sharp price swings in petroleum-based products". Bel added: "The consolidation of Safilait accounted for the lion's share of the region's sales growth in Q3."
Sales in the Americas and Asia-Pacific region continued to expand at a "hefty pace in Q3", Bel said.
Bel said in its outlook for 2016 that "market conditions remain tough, with a lacklustre economic environment, particularly in Europe, and a very uncertain geopolitical context in the markets of the Middle East, Greater Africa region, where operations management is increasingly complex".
"The group's earnings visibility is clouded by the rebound in dairy raw material prices and high volatility in currency rates and financial markets," Bel said. "Nevertheless, continuing to pursue its aggressive strategy, the group remains confident in its ability to defend and advance its positions around the world by building on the vitality of its brands, the strength of its innovation policy and the talent of its teams."
Last month, Bel finalised a deal that will see it acquire 65% of fellow French business MOM Brands from investment firm LBO France.