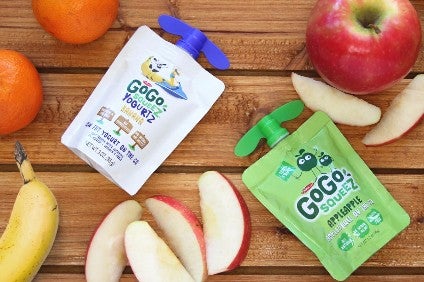 Bel Group, the France-based dairy business, has reported a 12% rise in first-quarter sales, helped by its acquisition of French desserts maker Mont-Blanc Materne last year.
The company behind cheese brands including Boursin and The Laughing Cow said its sales in the first three months of 2017 stood at EUR822m (US$893.9m), up 12.4% on the opening quarter of 2016.
Excluding the contribution from Mont-Blanc Materne, as well as a 0.5 percentage point impact from exchange rates, Bel said its sales declined 1.2%.
Bel struck a deal to buy a majority stake in Mont-Blanc Materne investment firm LBO France last autumn. The deal valued Mont-Blanc Materne at EUR850m. Announcing the agreement, Bel stressed Mont-Blanc Materne was a growth business that had "doubled" in size over the previous five years, with sales reaching EUR362m in 2015.
The impact of the deal was clear on Bel's first-quarter sales in Europe, which were up 15.8% year-on-year. Excluding the contribution from Mont-Blanc Materne, sales were up 1%.
The first-quarter sales from Bel's combined business in the Middle East and Greater Africa fell 10.7% amid political unrest in parts of the region and the depreciation of the Egyptian pound.
Sales from Bel's combined Americas and Asia-Pacific operations jumped over 42% due in the main to the Mont-Blanc Materne deal. Excluding the impact of that transaction, sales were up more than 5%.
Alongside its trading update, Bel had a note of caution on margins. "The sharp rise in milk and dairy raw material prices observed in world markets since the end of 2016 will weigh on operating margin in 2017. In addition, economic conditions have durably eroded in regions affected by armed conflict, negatively impacting sales in the Middle East and Greater Africa region in particular. Lastly, unbridled competition among food retailers in both Europe and North America continues to hamper the deployment of promotional campaign plans for the group's brands."