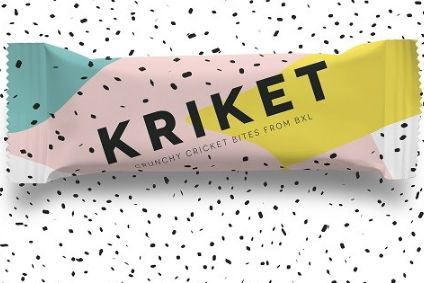 Kriket, a Belgian company making bars from crickets, has been backed by local supermarket group Colruyt.
The retailer has paid "several hundred thousand euros" for a minority stake in the business, according to its founder Michiel Van Meervenne.
The Brussels-based business only started selling cricket bars last year but they can be found in 350 stores in the Belgian market and are also being sold in the UK, Germany, the Netherlands and the Czech Republic.
In addition to the insects, Kriket's bars mainly contain seeds and nuts.
Van Meervenne, a former food industry journalist, told just-food he wants to use the money to boost sales and develop new products including cricket granola.
Announcing the tie-up with Colruyt on its website, Kriket said: "They [Colruyt] love healthy food, and they are totally ready to help us bringing insects to a mainstream audience".
It added: "We're joining forces with a true pioneer in sustainability. Together, we want to create smart cricket-based products, and bring the protein source of the future to a broad audience of curious consumers."
Van Meervenne told just-food Kriket wants to cement its presence in its existing markets but then, given a "green light from the EU Commission to export our crickets to all member states," it would look to expand into Spain, Portugal, Austria and Ireland.
In some EU member states, products containing crickets, as well as other insects such as mealworms and grasshoppers, are not allowed to be sold for human consumption. The European Food Safety Authority has received 13 insect-related applications under the EU's "novel food" legislation. These cover insect species already marketed in some EU member states, for which applications had to be submitted by the end of 2018 as a transitional measure in order to keep these products on the market. "Publication of the first insect-related opinions by EFSA can be expected towards the summer," EFSA told just-food today (14 May).
In terms of the prospect of product development at Kriket, Van Meervenne said: "The cricket flour we're working with is a very flexible ingredient, so you could think of a lot of different products."