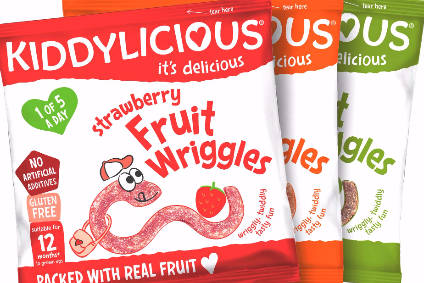 Belgium-based Lotus Bakeries has continued its acquisition spree in the UK, today (26 July) announcing it had bought baby-and-toddler food business Kiddylicious.
Lotus Bakeries, which acquired a majority stake in UK firm Natural Balance Foods in 2015 and 100% of another, Urban Fresh Foods, the same year, has paid "circa two times" Kiddylicious' forecast sales for 2018, which are expected to hit "at least" GBP21m (US$27.5m).
The Kiddylicious brand will join the likes of Bear snacks and Nakd snack bars in the Lotus Bakeries stable, alongside the Belgian company's flagship Lotus Biscoff biscuits.
Jan Boone, Lotus Bakeries' CEO, said: "We firmly believe that the Kiddylicious brand has a delicious and extensive product offering for babies and toddlers, which enriches our product range in the healthier-snacking segment."
Boone added he saw opportunities to grow Kiddylicious in the UK and internationally. "Kiddylicious products can already be found in multiple countries, yet Lotus Bakeries can help in realising the next level of growth for Kiddylicious by leveraging its international potential.
"Additionally, we want to strengthen the position of Kiddylicious in its home market, the UK. The UK has contributed significantly and positively to Lotus Bakeries, where we have seen fantastic growth in past years for Lotus Biscoff biscuits and spread and also continued strong growth for the healthy-snacking brands Nakd, Trek, Bear and Urban Fruit."
Kiddylicious, based in Amersham in southern England, was set up in 2009 by former Marks and Spencer food scientist Sally Preston, who owned a majority stake in the business, with the firm's staff having shares. Preston will continue to run the business.
"In order to take the brand to the next level we needed a strategic partner who shares our unique, innovative culture and has the capability to support us in accessing and developing our domestic and international markets," Preston said.
In 2017, Kiddylicious saw its sales jump 89%, reaching GBP16m. Its net profit was GBP1.2m.
Speaking to just-food in April, Preston said, by 2021, she saw the business' overall annual sales more than trebling to GBP53m, with markets outside the UK accounting for the majority of revenue.
just-food interview from April: CEO Sally Preston eyes home, abroad to power growth of UK baby-snacks firm