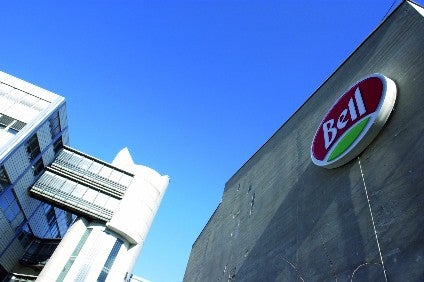 Switzerland's Bell Food Group is selling its sausage business in Germany to the Zur Mühlen Group amid a declining market in that country.
The Zurich-listed manufacturer of fresh meats, poultry and charcuterie explained demand for meat and sausages in the retail sector in Germany is waning, while the company has faced difficulties in passing on higher prices to consumers on the back of a "sharp" increase in pork prices.
Only last week, Bell warned its half-year profits would be down from last year amid a surge in global pork prices partially linked to the outbreak of African swine fever in China. It said then pork prices had risen 30% in 2019, leading to higher procurement costs in the European Union which the company had not been able to fully pass on to customers.
Bell said it will now re-focus it resources in Germany and will seek to expand its presence in German and international air-dried ham products.
It explained in a statement today (24 June): "As its [Bell's] market share is less than 1%, the Bell Food Group has a subordinate market position and consequently the outlook is poor." It did not disclose the financial details of the transaction, which is subject to clearance by the competition authorities but said it will incur one-off costs of around CHF35m (US$35.8m) this fiscal year.
Gian Marco Werro, a consumer goods analyst at MainFirst Schweiz, said in a research note the sale mainly affects the Bell brand Zimbo and the related rights in Germany.
Under the deal, Zur Mühlen will inherit two factories in Suhl and Börger which employ around 400 people, all of whom will be employed by the new owners. However, Bell indicated some jobs might be at risk within its Administration and Central Services departments in Germany and has started negotiations with employee representatives over "social compensation".
Bell said last week its EBIT profits for the six months through June are likely to be below CHF50m, compared to CHF55.2m a year earlier. And with the sale of its sausage business in Germany, it added today that revenue will fall by around CHF85m, although EBIT will see a benefit of CHF10m a year from 2020 onward.
Werro said in "relation to the disclosed savings in fiscal year 2020 onwards and the current commodity headwinds (swine fever) we expect the disposed business to be loss-making (circa -CHF10m EBIT in fiscal year 2019 vs. Bell Germany -CHF20m in fiscal year 2019). The implied impairments in relation to this disposal let us assume an even negative selling price".
He added: "This move is reasonable, as the respective market in Germany is strongly saturated and Bell held only 1% market share. The disposal and the related impairments will hurt Bell in the short term but will be no more a drag on growth and profitability from fiscal year 2020 onwards. However, the current headwinds in relation to the African swine fever and the related price increases in EU pork prices will remain a heavy challenge for the business also post disposal of its German sausage business."