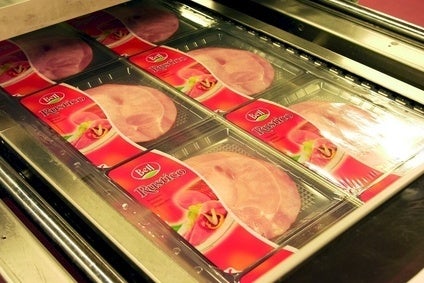 Swiss meat processor Bell Group reported higher earnings despite flat sales thanks to margin expansion due to growth in value-added products.
The company said that operating profit increased to CHF196m (US$206.9m) in the 12 months, up from CHF189.5m in 2013. Growth was supported by improved gross margins, which rose from 32.1% of sales to 33%. Bell attributed the positive trend to "progress made with product ranges with higher added value".
The improved operating result and a "substantial reduction" in finance costs lifted net profit by 14.5% to CHF87.7m.
Sales, however, came under some pressure declining 0.9% to CHF2.6bn. Overseas operations offset a 0.8% increase in domestic revenue. German sales declined 2.8% and international revenue dropped 8.1%, the company said.
Looking to 2015, Bell sounded a cautious note on the commodities outlook. "Bell expects raw material prices to start rising again in Switzerland and Europe in the second half of 2015," the group said. It added that the impact of currency exchange following the Swiss National Bank's move to scrap the euro peg would be "negligible".
Bell also revealed it will exercise its option to buy another 2% of sandwich-to-pizza maker Hilcona. The move will make Bell the majority shareholder in Hilcona with 51% of outstanding share capital.