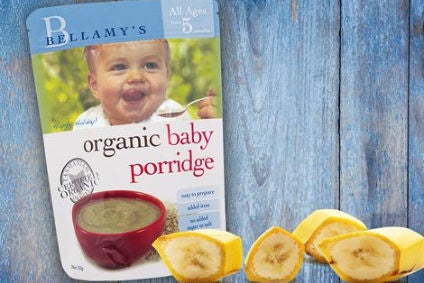 The largest single shareholder of Bellamy's Australia, the Black Prince Private Foundation, has said it wants to replace four of the company's non-executive directors with its own candidates, after trading in the infant formula maker's shares were voluntarily suspended following problems with exports to China.
In a filing with the Australian Securities Exchange today (4 January), Bellamy's said Black Prince, which holds a 14.48% stake in the company, had given notice to requisition a general meeting of in two months' time to elect the new non-executive directors.
Bellamy's chairman Rob Woolley said the move was "an unwanted distraction for the board and senior management as we work towards lifting the suspension of trading in Bellamy's shares". He said the company respected the right of shareholders to requisition meetings but added: "Bellamy's does not consider the proposal to be in the best interests of all shareholders. I support my fellow directors in opposing the proposal from Black Prince."
If Black Prince's proposals were to succeed, the move would be "disruptive to the company", the Bellamy's filing said. "The depth of experience and independence that the current non-executive directors bring to the board will assist to deliver long-term value to shareholders."
The four non-executive directors Black Prince wants to remove are Patria Mann, Launa Inman, Michael Wadley and Charles Sitch, together with "any person appointed as a director up to the commencement of the requisitioned meeting". Black Prince has nominated for election Jan Cameron, Chan Wai-Chan, Vaughan Webber and Rodd Peters – who was described as "an authorised representative" of Black Prince.
Meanwhile, Bellamy's said it remains suspended from trading until the earlier of the release of an announcement by the company or the start of normal trading on 13 January.
Bellamy's originally requested trading of its shares be suspended early last month. At the time, the company said the suspension was "necessary for the company to manage its continuous disclosure obligations whilst it continues with a review in order to finalise an updated announcement of the impact of trading conditions on the company's expected financial results".
The company later asked for the trading halt on its shares to be extended until it determined the impact talks with "key supplier/manufacturers" would have on its financial results.
Infant formula producers in New Zealand and Australia, A2 Milk Co., and Bega Cheese, subsequently moved to downplay market concerns. Australia-based dairy group Bega Cheese said last month it was "a key supplier" to Bellamy's and "has been and continues to discuss supply arrangements and volume forecasts with them".