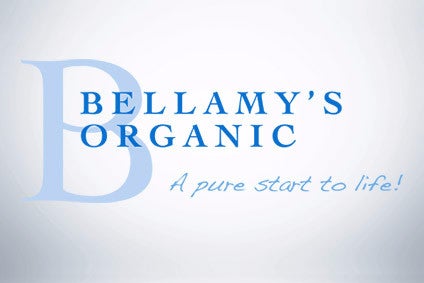 Embattled Australian infant formula producer Bellamy's Australia has outlined "four key priorities" as it looks to set up "a platform for sustained and profitable growth".
The company, which is under pressure from parts of its shareholder base after problems in China, has been working on measures to improve its performance under acting CEO Andrew Cohen. The former strategy and operations chief at Bellamy's took on the top job on an interim basis after the resignation of Laura McBain last month.
In a letter to Bellamy's shareholders, published yesterday (13 February), Rob Woolley, the company's chairman, said the business will look to "build credibility and stability with trade partners through stable pricing, smaller more frequent orders to a handful of strategic partners and transparency of trade inventory".
The "four key priorities" will see Bellamy's implement "cost management measures", including reviewing where it sources its ingredients. A third priority is to "maximise" free cash flow by reducing production levels. The company is also looking to "protect Bellamy's brand and margins" by reinvesting in marketing and distribution.
In the letter to shareholders, Woolley also criticised activist investor Black Prince Private Foundation. The investor, which owns just short of 15% of Bellamy's, last month said it wants to replace four of Bellamy's independent directors with its own candidate.
One of the four candidates has pulled out of the vote, which is planned for 28 February. The candidate, Vaughan Webber, did not provide a reason for his withdrawal, Bellamy's said.
Ahead of the vote, Woolley wrote to Bellamy's shareholders to take aim at Black Prince and to underline the work at the business, under acting CEO Andrew Cohen, to improve its performance.
"Black Prince has still not advanced any strategy or plan for Bellamy's. The current board and management are progressing a business plan for sustained growth for Bellamy's," Woolley said. "Black Prince has not explained how it would address the loss of corporate knowledge which would result from removing four of Bellamy's existing independent directors. It has also not addressed the company's concerns about the lack of listed company directorship experience amongst the candidates proposed by Black Prince."
There has been some uncertainty about the ultimate holder in Black Prince. Australian businesswoman Jan Cameron had previously said she had no connection to Black Prince but has since revealed the shareholder directs profits and dividends from its shares to the Elsie Cameron Foundation, an entity – named after her mother – set up for her environmental work. "I don't have any financial benefit or personal interest in the Black Prince Foundation," Cameron told The Australian Financial Review last month.
In his letter to shareholders, Woolley said Black Prince had told Bellamy's it would act in accordance with wishes of the directors of the trustee of the Elsie Cameron Foundation – Jan Cameron and Rodd Peters. "Bellamy's confirms that it has referred the issue to the ASIC [the Australian Securities and Investments Commission] for investigation," Woolley said. Both Jan Cameron and Rodd Peters are among the candidates Black Prince will put forward for nomination to the Bellamy's board on 28 February.
In a separate letter to shareholders yesterday, which was published by The Australian Financial Review, Ms Cameron said: "The current board has presided over a 67% destruction in shareholder value over the last 12 months and are no closer to a strategy to when the Bellamy's shares were suspended last year, as can be seen from the Bellamy's letter to its shareholders today."
The trading in shares in Bellamy's was suspended for over four weeks across December and January. The company asked for the suspension following a slump in its shares after admitting regulatory changes in China were affecting its sales.
According to The Australian Financial Review, Cameron said yesterday: "It's disingenuous of the Bellamy's chair to blame changes in the regulatory landscape for its fall. Our close competitor in the Chinese market A2 has not suffered from these regulatory changes and seems to have gained market share at Bellamy's expense."
Bellamy's is set to report its half-year results next week.