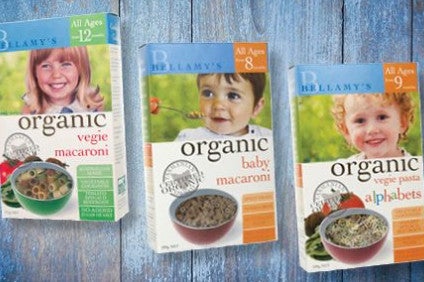 Infant formula maker Bellamy's Australia said today (30 March) it would miss a 2018 deadline to register some of its products for sale in China – increasing pressure on the troubled company.
Regulatory changes in China require Bellamy's infant formula products to be registered with the China Food and Drug Administration (CFDA) from 1 January 2018, for exports for sale in the country.
However, Bellamy's said in a statement to the Australian Securities Exchange while it is "confident" it will achieve CFDA registration, "it does not anticipate that it will have registration in place" by 1 January.
Bellamy's said its announcement follows talks with Australian dairy group Bega Cheese, which told the company its products for China can no longer be registered at Bega's Derrimut canning line. The move came after Bega agreed to sell spray drying and finishing capabilities to US-based infant formula business Mead Johnson.
Bellamy's said it now needs more time for "additional testing of up to six months" for its China products at alternative canning facilities. However, Bellamy's said its manufacturing contract with Bega for other products "remained in place".
The company said its products sold in China accounted for AUD16m (US$12.2m) of sales – around 14% – in the first half of fiscal 2017.
Today's announcement follows months of turbulence at the company, which led to the appointment of new chairman Rodd Peters at the start of the month following a boardroom showdown.
Bellamy's is also facing a class action lawsuit filed by disgruntled shareholders, action that emerged hours before the group reported a near-50% drop in operating profit for the first six months of its financial year in February.