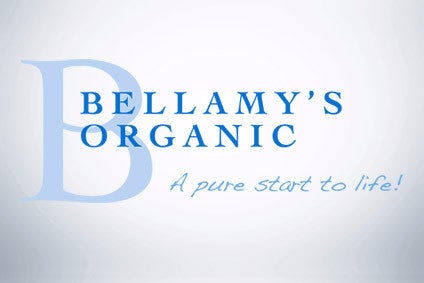 Embattled Australian infant formula maker Bellamy's Australia is facing a class action lawsuit filed by disgruntled shareholders, action that emerged hours before the group reported a near-50% drop in operating profit for the first six months of its financial year.
Bellamy's said its EBIT plunged 47.2% to AUD10.1m (US$7.7m) in the period to the end of December, compared to AUD19.2m in 2015. Net profit fell to AUD7.2m from AUD13.7m, the group revealed.
The company admitted in December regulatory changes in China were having a negative impact on its results. Bellamy's said it had seen a "temporary" volume deceleration in the market and responded by stepping up investment to support growth. In its trading update released today (24 February), Bellamy's attributed the drop in profitability during the six months to higher investments in marketing to support its brand as well as the increased cost of organic products.
The group's sales totalled AUD118.3m in the half, up from AUD105.1m in the comparable period of last year. However, compared to the second half of 2015, when the group reported revenue of AUD139.4m, sales were down.
"Bellamy's grew revenue for six consecutive halves before declining 15.1% in 1H17 [compared to the first half of its 2016 financial year]," the company said. "A build-up of 'Australian label' inventory by China/Hong Kong resellers in 2H16 and 1H17 led to an oversupply, causing widespread discounting on Chinese e-commerce platforms," the company said. "This impacted the competitiveness of the Daigou channel and slowed Bellamy's Australia sales."
The China slowdown prompted a steep drop in Bellamy's share price, which has fallen by almost 70% since the beginning of December. As a result, the group's CEO Laura McBain stepped down last month.
Bellamy's has, nevertheless, faced ongoing pressure from shareholders and it emerged this week a class action lawsuit has been filed by shareholders who allege the company misled them over its growth prospects in China and failed to notify the market about declining market share in Australia.
Law firm Slater and Gordon filed proceedings in the Federal Court of Australia in Victoria yesterday. Senior class action lawyer Matthew Chuck said that "hundreds" of shareholders have signed up to the suit.
"Our investigation has confirmed our initial view that Bellamy's made misleading statements about its continuing growth in circumstances where it had no proper basis to do so, particularly given the likely impact of regulatory reform in China," Chuck said.
Bellamy's responded to the lawsuit by saying it will "vigorously defend the proceedings".