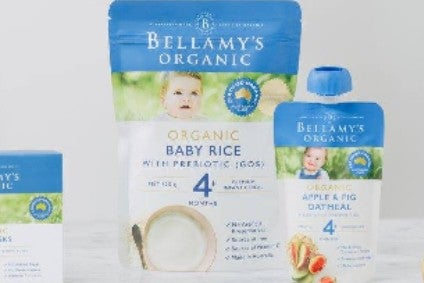 Infant-formula and baby-food supplier Bellamy's Australia has forecast a fall in revenue in its current financial year after a drop in first-half sales.
Bellamy's estimates its annual group revenue will reach AUD275-300m (US$196.7-214.6m), down from AUD328.7m in the previous financial year.
Until today (27 February), Bellamy's had been unable to give full guidance for the current trading year amid some uncertainty about a portion of its sales in China.
Bellamy's first-half "normalised" EBITDA stood at AUD26m, a fall from the AUD34.9m booked in the first half of its last fiscal year. The normalised result excludes inventory costs linked to a rebrand of products. The firm said the "transformational rebrand and product upgrade" now in the market included "the world's leading levels of DHA (omega 3) for a major organic formula in addition to ARA and GOS".
The group has carried out the brand to aim for "sustained revenue growth" and a higher level of investment in China. The plans include a doubling of its marketing spend and a doubling the size of Bellamy's team in China in the second half of its financial year.
In a filing with the Australian Securities Exchange, Bellamy's said its first-half revenue had been "impacted by a number of factors previously flagged to the market", including a delay in securing registration from Beijing for the sale directly in stores of Chinese-label infant formula, "a planned reduction" in trade inventory ahead of the rebrand and an "observed slowdown in category performance".
CEO Andrew Cohen added: "The board and management team remain strong believers in the medium-term outlook, and the ability to evolve Bellamy's from Australia's number one organic brand to Australia's number one organic portfolio."