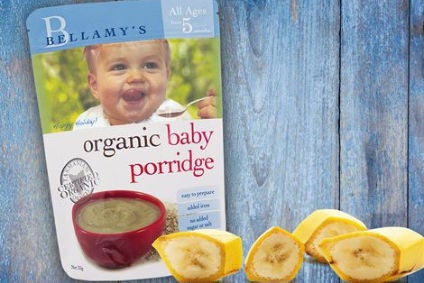 Bellamy's Australia said today (9 August) China has lifted the suspension of its export licence from its newly-acquired cannery business in Melbourne – but the infant-formula maker cannot immediately ship from the factory.
The Certification Accreditation Administration of the People's Republic of China has cancelled the suspension imposed in July on Bellamy's Camperdown Powder facility – which the Australian firm said then was the result of third-party allegations made to Chinese authorities over "historical filing and records" and "certain previous quality issues".
Bellamy's said in today's statement the company "diligently responded to all requests and queries on behalf of the CNCA and worked with the assistance of Australian officials, through the process as stipulated by the Chinese authorities".
CEO Andrew Cohen said: "Bellamy's appreciates the important role the CNCA has in protecting Chinese consumers and the support of the Australia trade officials in assisting us throughout this process."
However, it's too early to hang out the victory flags after Reuters reported a Bellamy's spokesperson as saying the company must still apply for a licence from the China Food and Drug Administration to export infant formula to China from the site. Bellamy's expects to obtain the licence next year, the spokesperson reportedly added.
Back in July, the company requested a trading halt on its shares after the CNCA suspended the licence, derailing Bellamy's plans to expand production at the Camperdown Powder site. It also offered refunds to investors, who had backed a funding exercise through a rights issue.
It is not just Bellamy's among Australia's dairy and infant formula operations to have recently come up against Chinese authorities. Italian dairy giant Parmalat had its fresh milk export licence for its factory in Clarence, Adelaide, suspended by the CNCA in July. After conducting an audit, the regulatory body cited in its decision temperature limitations during processing.