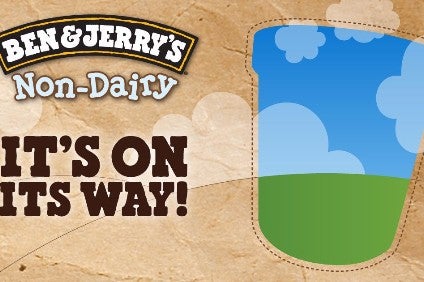 Unilever-owned ice cream brand Ben & Jerry's has confirmed it is rolling out its non-dairy range to the UK.
Ben and Jerry's vegan-friendly offering was launched in the US early last year and the company has previously said it would be introducing the range in Europe before the end of 2017.
While it has not yet confirmed a UK, or European, launch date, the firm has today (25 July) confirmed it is on the cards.
Andrea Ball, described as a flavour guru at the company, said: "Our fans dared us to go dairy-less… and we did. Creating non-dairy ice cream that meets the funky and chunky expectations of Ben & Jerry's fans was quite a challenge for our flavour gurus.
"But we're delighted to confirm that we're bringing our non-dairy line up to UK shores."
Flavours for the new range – made from almond milk rather than cow's milk – have not yet been confirmed but the dairy-free range in the US includes varieties such as caramel almond brittle, coffee caramel fudge, chunky monkey, and chocolate fudge brownie.
Earlier this month, it was announced Ben & Jerry's has entered the fledgeling direct-to-consumer channel in the US.