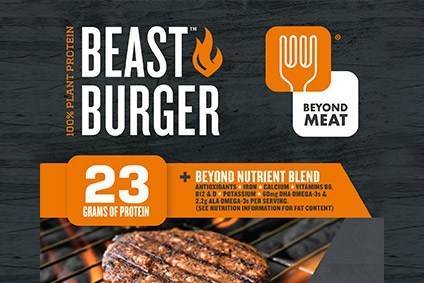 US plant-based protein product maker Beyond Meat has announced further executive appointments, including a new COO and CFO.
Beyond Meat has named former Fiji Water COO Jerry Joye as its chief operating officer and Mark Nelson, the finance chief at hot beverages business Farmer Brothers Co., as chief financial officer.
The business has also hired former Annie's, ConAgra Foods and PepsiCo executive Mark Mortimer as chief commercial officer.
"These additions to our team bring industry experience, expertise, and leadership that will help make our vision for Beyond Meat as a centre of the plate protein for families a reality," said CEO Ethan Brown. "We believe this management team will shape the future of protein – a world where meat made from plants is widely accepted and available to consumers."
The appointments, announced yesterday, follow the recent moves to appoint Honest Tea founder and CEO Seth Goldman as chairman and hand a seat on its board to former McDonald's CEO Don Thompson.
New COO Joye will be responsible for the company operations as well as product commercialisation and infrastructure. Prior to his role at Fiji, he previously held P&L positions at General Electric and served as a logistics officer in the US army.
Nelson, most recently CFO and treasurer at Farmer Brothers Co., has also held roles with Newport Corporation, a supplier of advanced technology, and its subsidiaries, and Thermo Electron.
Mortimer, who will be in charge of Beyond Meat's sales and marketing activities, was previously president and CCO at Annie's Inc. He has also spent time at Del Monte Foods and Clorox.