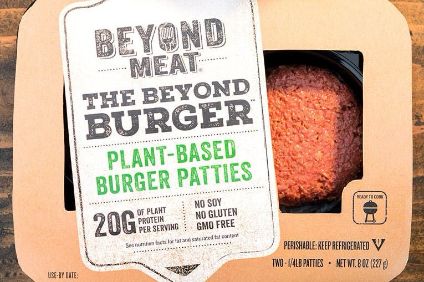 US-based protein start-up Beyond Meat is opening a second factory in Colombia, Missouri, to cater to surging demand for its meat-free burgers.
With the new plant comes the creation of 250 jobs at the site, the company said in a statement. Beyond Meat's existing Missouri facility houses more than 200 employees.
Founded in 2009 by Ethan Brown, Los Angeles, California-based Beyond Meat is renowned for its Beyond Burger and Beyond Sausage. The new site will help meet rising demand for those products as manufacturing capacity expands from 30,000 sq ft to 100,000 sq. ft.
Mark Nelson, who is both chief financial officer and COO, said: "This expansion in our production capacity will help us to meet the considerable increase in market demand we have seen for our new and innovative product offerings. Our expanded 100,000 sq ft manufacturing footprint will provide the scale we need to service our rapidly growing retail, foodservice and international customer base."
In May, the company said it was aiming to grow its global network of customers to 50 countries, including Germany and the rest of Europe, Canada, Australia, Mexico, Chile, Israel, UAE, South Korea, Taiwan and South Africa.
The Beyond Burger, launched in 2016, looks and tastes like beef, but is made entirely from plants without GMOs, soy or gluten. The Beyond Sausage came to market late last year.