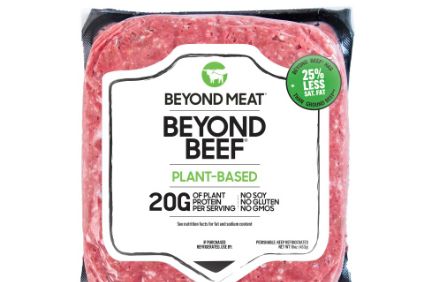 US plant-based meat company Beyond Meat has increased the expected price range and size of its initial public offering ahead of an expected market debut on Wednesday.
Suggesting high demand from would-be investors, the Los Angeles-based maker of the Beyond Burger said in a filing with the US Securities and Exchange Commission (SEC) that it expects to offer 9.63m shares, up from 8.75m, and the shares will be priced between US$23 and $25, up from $19 to $21.
News agency Reuters reported that the higher end of the indicative price range gives the company a market value of $1.49bn, up from $1.21bn previously.
It was estimated earlier this month that Beyond Meat could receive gross proceeds of up to US$201m from the Nasdaq listing. Some analysts are now suggesting that figure could reach $240m.
It had been an open secret for some time that the company planned to go public and that was confirmed by the Beyond Burger maker in an announcement on 22 April.
Investors in Beyond Meat include actor Leonardo DiCaprio and Microsoft founder Bill Gates. US meat giant Tyson Foods was also an investor but said last week that it was selling its shares in the plant-based business before the IPO.
In January, Beyond Meat announced it was rolling out its plant-based burger at US fast-food chain Carl's Jr. It is also available outside its home market in countries including Canada and the UK.