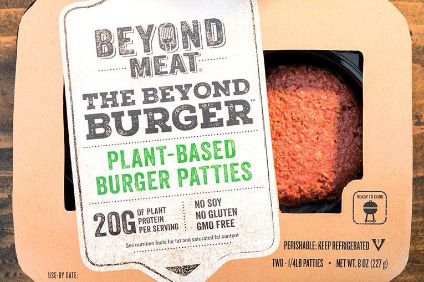 US plant-based meat alternative firm Beyond Meat continues to be dogged by supply issues outside of its domestic market.
Just days after Beyond Meat postponed the launch of its products in the UK, pointing to fears it could not meet demand, the burger chain it supplies in Canada has revealed it has run out of stock.
Burger chain A&W said demand for Beyond Meat's flagship Beyond Burger had "exceeded expectations".
A&W said the product would be back on its restaurant menus in a matter of weeks.
Susan Senecal, A&W Canada's president and chief executive officer, said: "We're working hard to offer guests the mouthwatering burger again very soon, and to ensure that when it's back, it's back for good.
"The Beyond Meat Burger will be a permanent menu item and we are delighted that Canadians are as excited about it as we are."
A&W introduced the Beyond Meat Burger onto its menus in July.
Last week, California-based Beyond Meat announced it was delaying the launch of its Beyond Burger product in the UK, planned for the summer via big four supermarket Tesco, until the autumn.
It was due to launch in 350 Tesco stores at the beginning of this month.
Fears about failing to meet retailer and customer demand convinced it to postpone the UK launch.
In a statement sent to just-food, Seth Goldman, executive chairman at Beyond Meat, said: "We are taking steps to make sure that when we do launch, we will be sure to have enough product to keep the shelves full."
Founded in 2009 by Ethan Brown, Beyond Meat launched the Beyond Burger in 2016. It looks and tastes like beef, but is made entirely from plants without GMOs, soy or gluten.
The supply issues have arisen despite Beyond Meat opening a new Beyond Burger production facility in Missouri in June, which tripled its manufacturing capacity.