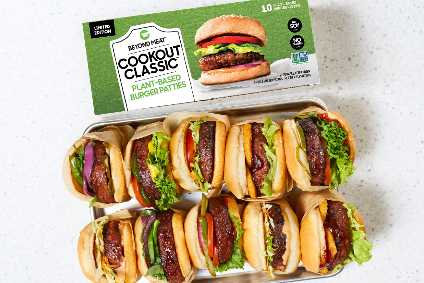 Beyond Meat has expressed an ambition to "under-price animal protein" across categories after the launch of a value pack of burgers contributed to the US group's sales growth in the second quarter.
The company introduced its Cookout Classic value twin pack in the last two weeks of June but the product contributed "16 points" to the growth the firm saw in its volume sales through US retailers in the second quarter.
Beyond Meat said the move narrowed the price between its burgers with conventional patties from almost double to around a 20% premium, on a per pound basis.
On Tuesday (4 August), the company reported its second-quarter and half-year financial results. Second-quarter net revenues were up 69% at US$113.3m, crossing the $100m mark for the first time, although the company's net losses widened.
Founder and CEO Ethan Brown noted on a follow-up results call with analysts Beyond Meat had a five-year strategy, drawn up 18 months ago, to "under-price animal protein in at least one category".
"We're well on our way to that and hopefully be able to do it in more than one category in terms of beef, pork and poultry," Brown said. "I think very clearly that we're going to be able to under-price animal protein within that three-and-a-half-year window that we set for ourselves."
Meanwhile, Beyond Meat has suffered similar pressure on its sales to foodservice customers to that seen by other food manufacturers. As government lockdown measures led to more demand switching to the retail channel, the company's revenues through the sector surged 192% in the second quarter, while foodservice fell 59%.
Finance chief Mark Nelson explained: "Growth in net revenues for the second quarter of 2020 was primarily driven by an increase in volumes sold, partially offset by lower net price per pound as we implemented our strategy to offer more aggressive pricing and promotional programmes amid temporary dislocations in the animal-protein market.
"In aggregate, although our Q2 net price per pound of $5.69 was down only 3% year-over-year, and 2% sequentially, this number was heavily influenced by the significant mix shift from foodservice towards retail."
Nelson noted how, typically, Beyond Meat's products sold through retail generally have a higher price than those for foodservice.
And Beyond Meat saw a significant shift in the weighting between retail and out-of-home in the quarter, from roughly a 50/50 split to 88/12. "Adapting to such a dramatic change in mix over a short period of time was no small feat," Brown said.
Despite the downturn in foodservice, Brown said Beyond Meat remains committed to what he described as a "critically important channel", no matter what obstacles are thrown up.
"Beyond Meat is determined to be a true long-term partner to each of our foodservice customers, irrespective of any particular economic cycle," he stressed. "We see no fundamental issues related to our foodservice business itself or our strategy that would preclude us from returning to a strong growth trajectory when some level of normalcy returns.
"For the remainder of the year, however, we do anticipate that US foodservice demand will remain soft relative to a year ago, given the return of high rates of Covid-19 infections across many parts of our country, including here in Los Angeles."
Because of Covid, Beyond Meat is still not offering any financial guidance for the year "given the ongoing uncertainty regarding the ultimate duration, magnitude and effects" of the pandemic.
Despite the increase in sales, Beyond Meat posted a net loss of $10.2m in the quarter running through 27 June, widening from a $9.4m loss a year earlier.
Adjusted EBITDA rose to $11.7m from $6.9m.
Sales to international customers across the retail and foodservice channels represented 15% of net revenues, down from 30%.
Having made its foodservice and retail debut in China earlier this year, Brown said Beyond Meat is "beginning to work" with quick-service restaurants in the country, "which is a new set of business for us and something that I think we're going to continue to see growth around".
In support of Beyond Meat's expansion plans, capital expenditure has more than tripled to $26m so far in 2020, from $7.5m a year earlier.
"We'll continue to find growth where it exists, and we'll continue to pivot our company to take advantage of that even at the expense of incurring some near-term costs," Brown said. "We're at such a point in our growth today that it's very important that we continue to gain market share."
Beyond Meat reported its results after the closing bell in New York on Tuesday. Yesterday, the company's shares fell 6.72% to $132.69. Beyond Meat's share price started 2020 at $75.64.
AllianceBernstein analyst Alexia Howard said some investors may have been unimpressed by the nature of Beyond Meat's growth in the second quarter.
"Beyond Meat reported stronger-than-expected sales and profit results in 2Q:20, although the sequential top-line deceleration may be disappointing to retail investors. Sales of $113.3m were 14.4% ahead of consensus, although the year-on-year growth rate of 69% represents a sequential slowdown from last quarter's 141% given foodservice declines," Howard said. "While the foodservice weakness was well telegraphed last quarter and the US retail sales growth of 195% came in well above expectations due to expansion in the club channel, the sequential slowdown may be disappointing to retail investors."