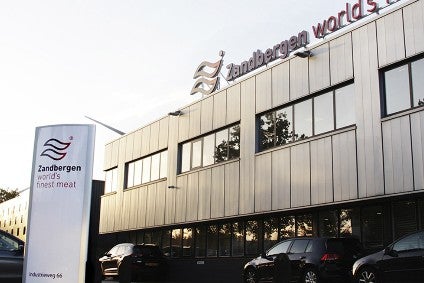 Beyond Meat of the US plans to speed up delivery of its plant-based meat alternative products to customers in Europe with a manufacturing agreement with Zandbergen in the Netherlands, the first of its kind on this side of the Atlantic.
Zandbergen World's Finest Meat is building a new facility in the municipality of Zoeterwoude to manufacture products for the Los Angeles-based firm, according to a statement today (28 May) from Beyond Meat, which made its debut on the Nasdaq exchange this month and has since seen the value if its shares more than triple.
The agreement extends Beyond Meat's partnership with Zandbergen, which started distributing the company's products in Europe last year to foodservice and retail customers. Stockists on this side of the pond already include Dutch supermarket chain Albert Heijn, UK retailer Tesco and Ahold Delhaize in Belgium.
The new facility is expected to be completed "in the first quarter of 2020".
Beyond Meat said today it plans to expand its reach across foodservice channels in Europe, including "popular burger chains and innovative restaurateurs".
"The consumer response in Europe has been very positive and we look forward to being able to better serve those customers with locally-produced products," said Seth Goldman, the executive chairman of Beyond Meat. "We are pleased to have strong strategic partners in Europe like Zandbergen to help us grow our global footprint."
Outside of the US and Europe, Beyond Meat has a presence in Australia, Chile, Hong Kong, Israel, the Middle East, New Zealand, South Korea and Taiwan.
Beyond Meat's stock closed at US$79.67 on the Nasdaq exchange last Friday ahead of the long holiday weekend, compared with the launch price of $25 a share.
Zandbergen also works with US meat giant Tyson Foods – which recently withdrew its interest in Beyond Meat – along with Uruguay-based Frigorífico Las Piedras and the Australian Agricultural Company.
Adriaan Figee, the chief commercial officer of Zandbergen, added: "As the demand for plant-based products continues to expand in Europe, we are thrilled to be partnering with Beyond Meat to produce their innovative products outside the US."