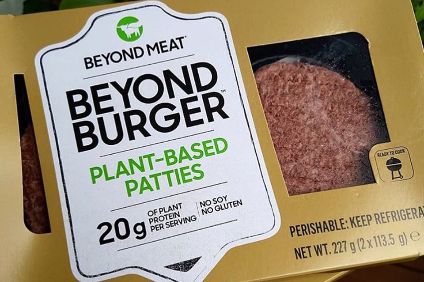 US plant-based protein business Beyond Meat has announced its intention to raise more money by way of a new public offering.
The California-based manufacturer of the Beyond Burger said it will use the money partly to increase its production and supply capabilities. In the past Beyond Meat has struggled to keep up with demand for its products.
The new public offering will make available 3.25m shares, made up of 3m sold by existing shareholders and 250,000 sold by the company.
The move comes less than three months after its initial public offering in May, which raised an estimated US$240m.
Beyond Meat also yesterday reported its second-quarter and half-year results.
In the second quarter to 29 June, Beyond Meat generated net revenues of $67.3m, up sharply from $17.4m in the corresponding period a year earlier.
Beyond Meat's income from operations in the second quarter was $2.2m, against a loss of $7.3m a year earlier.
The company's net loss widened, hitting $9.4m, compared to $7.4m the previous year.
Ethan Brown, Beyond Meat's CEO, said: "We are very pleased with our second-quarter results which reflect continued strength across our business as evidenced by new foodservice partnerships, expanded distribution in domestic retail channels, and accelerating expansion in our international markets.
"We believe our positive momentum continues to demonstrate mainstream consumers' growing desire for plant-based meat products both domestically and abroad.
"Looking ahead, we will continue to prioritise efforts to increase our brand awareness, expand our distribution channels, launch new innovative products, and invest in our infrastructure and internal capabilities in order to deliver against the robust demand we are seeing across our business."
Shares in Beyond Meat were priced at $25 when the company listed on the Nasdaq in May. On 26 July, the stock reached a high of $234.90.
The company announced its new equity raising and second-quarter numbers after the market closed yesterday. In pre-market trading today, Beyond Meat's share price had fallen 14.46% from yesterday's close of $222.13 to $190.