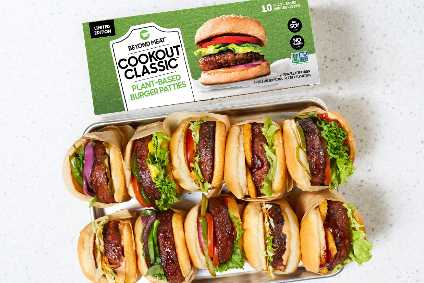 Beyond Meat has talked up its competitiveness on price in the face of significant cuts in the US from major domestic rival Impossible Foods.
Ethan Brown, Beyond Meat's founder and CEO, said the company was "still very competitive" on specific items and remained focused on its own ambition to be cheaper than conventional meat in three years' time.
In a conference call with analysts to discuss Beyond Meat's 2020 financial results – which included widening annual losses – Brown stood by the company's recent investment in areas such as production.
Without providing further details, Brown also underlined how recently-announced deals with PepsiCo, McDonald's and Yum Brands would benefit Beyond Meat and was sanguine when asked about the growing competition in the plant-based meat category.
The conference call, held on Thursday (25 February) featured CFO Mark Nelson, whose departure Beyond Meat separately announced today.
In 2020, Beyond Meat's net revenue grew 36.6% to $406.8m, with retail sales in the US and overseas more than doubling.
The company made an annual loss from operations of $49.3m against $489,000 in 2019. Its annual net loss was $52.8m, compared to $12.4m a year earlier. Beyond Meat pointed to investment in "headcount to support long-term growth", in efforts to expand internationally, IT spending and marketing, among other areas, as a factor. Brown told analysts on Thursday: "We're looking ahead to the future and investing in the infrastructure and team that we need to have this be a major protein company globally."
In recent weeks, Impossible Foods has announced a 15% reduction on the price of its products sold to foodservice customers and a 20% cut in SKUs sold to grocery retail.
Speaking to analysts on Thursday, Brown was asked how Beyond Meat is reacting on its own prices.
"We're not reacting in the sense that, if you look at our price structure today, we're still, even with those reductions, very competitive, both on the ground beef side of things and on the burger," Brown insisted.
"Our focus is not on that particular competitor or others in regard to our cost-reduction efforts. It's really on this three-year goal that we set two years ago – a five-year goal so we're two years in – to be able to under-price animal protein in at least one category. We're focusing very much on beef around our business and believe that we can get there."
Brown said Beyond Meat would not look to achieve the "pricing that we need for wide-scale availability by compressing margin", adding: "We're going to get there by a very thorough walk-through of our supply chain, our production processes, our logistics. That's an effort this multi-year and is being carried out now."
The Beyond Meat chief said the company does turn to price to encourage consumers to try its products and pointed to the "strong repeat rate" on purchases it had seen. "Because we have such a strong repeat rate, one that is I think now 55.3%, which is up from 43% a year ago, that's a really smart investment. It gives us the opportunity to access more and more consumers," he said.
Alongside Beyond Meat's 2020 financial results, the company announced "strategic" supply deals with McDonald's and with KFC operator Yum Brands. Last month, Beyond Meat also revealed a joint venture with PepsiCo to develop and produce plant-based snacks and beverages.
Brown said Beyond Meat was "not prepared to elaborate" on the deals with McDonald's or Yum, adding the financial impact of the contracts "is likely to be fairly modest in 2021".
Later on the call with analysts, when pressed for a steer on how the agreements may affect Beyond Meat's foodservice sales this year, Brown said: "I think we're downplaying the 2021 impact of these two deals we announced because these deals are enormous, right? They are the biggest deals you could possibly put together in food in our sector and we don't want people to get ahead themselves."
He added: "This really needs to be driven by our customers, if we are a supplier to them. We are there to serve them and the goal they want to accomplish and so for us to come out and speak in a robust way about what this could do for near-term revenue I think would be a mistake."
On the PepsiCo deal, the announcement for which was light in detail, Brown remained coy but said: "While we were not sharing specifics about the scope and timing of the new joint venture's first product launch at this time for competitive reasons, we are thrilled to combine our expertise in plant-based protein with PepsiCo's tremendous breadth of distribution, strength in marketing and other world-class capabilities."
With investment money continuing to pour into the market for plant-based protein globally and start-ups continuing to emerge, not least in Asia, which remains an important overseas market for Beyond Meat, Brown was asked whether the sector is set to see consolidation.
"I think that's happening now," he said. "I think a year or two ago, we answered a ton of questions about competitive threats and here we are, a year into a pandemic, a year into a very heavily-funded competitor coming into our space and what's the result? We're the number one brand in [US] retail and we're the number one brand in foodservice measured through NPD data. There's going to be competitors and they're going to give their best shot and we appreciate that.
"It keeps us on our toes and it keeps us very focused. And I think from the investment community, there's a lot of people that are investing very late in the hope that they can get the next break and I think that we have established this position. We're doing very, very far-off research, as well as near-term; our fingers are in a lot of different pots in terms of where we think the sector might go."
In a separate announcement made today, Beyond Meat said CFO Nelson had told the company he would step down from the role on 5 May.
"Mr. Nelson's decision to retire is voluntary and is not as a result of any disagreement with the company on any matter relating to the company's operations, policies or practices," Beyond Meat said.
Nelson joined Beyond Meat in 2015 as CFO and took on the additional role of COO in February 2016, holding both positions until March 2017. After a two-month stint as CFO of medical-device company Biolase, he rejoined Beyond Meat as COO and CFO in May 2017. Nelson resigned the COO position in September 2018 after being given the extra job of secretary, a role he stood down from in May 2019.
Last year, Nelson was named in a fraud claims lawsuit filed by one-time Beyond Meat co-packer Don Lee Farms. Beyond Meat has rejected the claims.