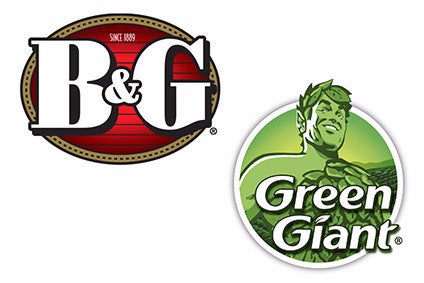 B&G Foods has reported higher first-quarter sales and earnings, helped by recent acquisitions, but the US group saw its underlying sales fall.
The US group reported a 69.7% jump in net income to US$33.2m for the period ending 2 April. On an adjusted basis – stripping out the effect of acquisition-related inventory costs and expenses and restructuring expenses – net income increased 88% to US$38.6m. Operating income increased to US$72.9m from US$41.9m.
The improvement in profits came on the back of growth in net sales that was boosted by B&G Foods' recent acquisitions of Green Giant and Mama Mary's. Net sales increased 62.6% to US$353m.
However, base business net sales, without the impact of the acquisitions until the new assets, are included in both comparable periods – sales fell 2.2% to US$4.8m. This was due to a decrease on unit volumes and the negative impact of currency fluctuations on foreign sales.
"The first quarter was extremely positive on many levels, particularly with respect to B&G Foods' profitability, and as a result we have increased our 2016 guidance for net sales, adjusted EBITDA and adjusted diluted earnings per share. To date, our acquisition of Green Giant is turning out to be even more profitable than initially anticipated, a major driver of our favourable results in the first quarter," said Robert Cantwell, president and CEO of B&G Foods.
"The Green Giant transition is well under way and on schedule and the Green Giant innovation pipeline is growing. We are more excited than ever about bringing Green Giant back to prominence and I believe we have the plan and the team to make that happen."
B&G Foods did increase lift the lower end of its forecast for annual net sales. It had predicted net sales of US$1.38-1.42bn but now estimates its top line will hit US$1.39-1.42bn.
The company expects its adjusted diluted earnings per share guidance will reach US$2.05 to US$2.15, up from an earlier forecast of US$1.90 to US$2.00. The adjusted EPS excludes the after-tax impact of loss on extinguishment of debt, the amortisation of acquisition-related inventory step-up, other acquisition-related expenses and distribution restructuring expenses.