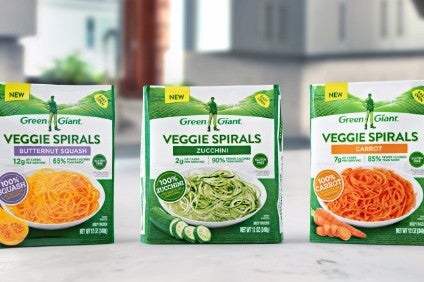 US manufacturer B&G Foods has announced its president and CEO Kenneth Romanzi stepped down from those roles yesterday (15 November) to pursue "personal interests".
The Green Giant in the US said David Wenner, a board member and a former president and CEO of the company, is coming out of retirement to take up the positions left vacant by Romanzi on an interim basis as the business conducts a search for a replacement.
Wenner served as president and CEO from 1993 to 2014. He has been a member of the board since 1997.
Romanzi, who became B&G's CEO in April 2019 after joining as COO from Danone two years earlier, said: "I thoroughly enjoyed my time at B&G Foods and am very proud of all of our accomplishments. The business is in excellent shape and I am confident the team will continue to deliver terrific results. I wish the entire B&G Foods family all the best for a bright future."
Company chairman Stephen Sherrill acknowledged Romanzi's input during the pandemic saying he "navigated B&G Foods through these unprecedented times and helping keep our dedicated employees safe and healthy".
He continued: "Under Ken's leadership, B&G Foods' financial performance has been very strong during the ongoing pandemic, as our portfolio of leading brands has benefited from increased eating at home, resulting in strong year-over-year growth.
"We believe this is a good time to make a leadership transition and we are very fortunate that our former long-time CEO Dave Wenner, who has continued to serve on our board of directors, is now available and has agreed to help lead our company while we search for our next CEO."
Wenner commented: "I am very excited for the opportunity to once again lead our company, work with our talented executive leadership team, and reinforce the principles and strategies that have helped create tremendous value for all of our stakeholders over the years. We will continue to focus on growth, including organic growth and growth through acquisitions, operational improvements and cost reduction efforts."
B&G Foods is present in a number of categories as well as vegetables, including snacks, condiments, bakery products, soups and spreads. It has been active on the acquisition front of late, with the most recent deal being cooking oil and bakery shortening brand Crisco, purchased from J.M. Smucker in October.
Earlier this year, the company also acquired Massachusetts-based vegan manufacturer Farmwise Foods. And in 2019, it purchased baking ingredients producer Clabber Girl.
In the nine months to 3 October, B&G generated net sales of $1.46bn, up 22.5% on a year earlier, with the company pointing to "materially increased net sales" from March through to the end of September amid the pandemic and the impact of the Clabber Girl purchase.
Reporting the nine-month figures earlier this month, B&G posted a 23.5% in adjusted EBITDA to $287.9m. The company's net income was $119.8m, versus $66.1m.