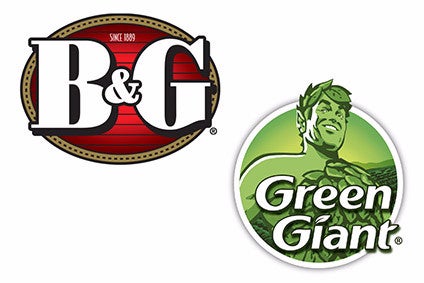 B&G Foods is prepared to make more acquisitions in the frozen food sector, the US group's chief executive has said.
The company sealed its US$765m purchase of Green Giant from General Mills in November. The deal saw B&G, a business with a lot of dry grocery and snacks, enter the frozen food category.
Bob Cantwell, B&G's president and CEO, indicated the group was willing to do more deals in the sector.
"This is a platform for us to really be a real competitor as frozen assets come to market and we will be looking at those frozen assets," Cantwell told the ICR investment conference in Florida yesterday (12 January).
Cantwell emphasised B&G was open to making more acquisitions in dry grocery and snacks. "We're always looking. Everybody who puts a brand out there knows we're going to be an active acquirer. We are willing to look in the centre of the store, frozen and warehouse snacks – not store-door snacks – and we're wide open if it's a brand [that] has real legs to it, has been around," he said. He added: "And it has to be strong margins."
The acquisition of Green Giant is the largest B&G has made so far. Green Giant is the largest brand in Canada's frozen and shelf-stable vegetable categories but it has had problems in the larger US market, where it is the number two brand in both sectors. Overall, Green Giant sales have been declining in recent years, predominantly due to pressure on its US frozen business. Over 60% of Green Giant's total sales are made through frozen products and, in the US, the brand has seen its sales fall in a flat category.
However, Cantwell said General Mills had not invested enough in Green Giant and insisted B&G saw "a lot of potential" in its new asset.
"Canada has continually performed extremely well on this brand. Where this brand has faltered is especially in the frozen set in the US," Cantwell said. "It used to have a much bigger position in the US and competition has pushed them as the prior owner didn't put enough emphasis behind this brand in the last number of years. We have a lot of plans and support money to push this brand going forward."
Cantwell said B&G would increase the amount of money being spent on marketing Green Giant and had plans to launch more products. He said B&G's plans for Green Giant was the first time the company was "to put some real consumer marketing" behind a new asset.
"What's different this time is certainly on anything we buy will be a lot more innovative and nimble," he said. "General Mills was spending $15-16m in marketing. We're taking it up over $32m, back to the levels General Mills was spending about four years ago in this brand. We'll be the leading spender in this category as we roll out new innovation. We're going to support this brand with some real heavy marketing. Most of this will really kick in in the fall season when vegetables really sell in a big way. Plans are being put in place to start relaunching this business in the fall and 2017 in a much bigger way.
"The biggest problem is that the former owner … stopped innovating. If you look at the competition set, this is about innovation. None of what's come out in the last few years is that complicated but it's about innovation. Innovation is extremely important to make sure the retailer knows you're paying attention to the category."
Asked about how he expected Green Giant's competition will respond, Cantwell said: "We'll see what the response is. In the last three to five years, competition in this category hasn't had a competitor that has been pushing this brand."
Cantwell added B&G also saw "some real opportunities" for Green Giant's shelf-stable business, which he said had seen some impact on sales amid changing consumer trends in the US but which had remained "relatively stable".
—-
just-food has published research into the factors that will drive M&A in the food industry from now and into 2018.
The full report will be available from just-food in mid-February. However, those who take out an annual subscription to just-food before 31 January 2016, at a 35% discount on standard pricing, will receive free copies of both 'Drivers of Food Industry M&A' and another recent report, 'How Brands Can Win in Online Grocery', which was written by Professor David Hughes, Emeritus Professor of Food Marketing at Imperial College London and Miguel Flavián. To take advantage of this offer click here.