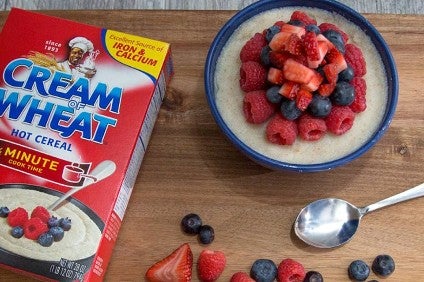 US consumer goods group B&G Foods plans to drop an image of a black chef from the packaging of its Cream of Wheat porridge mix amid concerns it might be considered racially offensive.
New packaging is expected to be rolled out in the first quarter of next year, according to a number of media reports, including Reuters, quoting a statement from B&G Foods yesterday (24 September).
"For years, the image of an African-American chef appeared on our Cream of Wheat packaging. While research indicates the image may be based upon an actual Chicago chef named Frank White, it reminds some consumers of earlier depictions they find offensive," B&G Food said in the statement.
B&G Foods joins a host of other packaged food manufacturers that are dropping insensitive images from their brand packs to avoid claims of racial stereotyping following the death of black US citizen George Floyd during his arrest by police, which resulted in widespread protects by the Black Lives Matter movement in the US and overseas.
This week, Mars said it would change the packaging of its Uncle Ben's line featuring an aged black man, renaming the brand Ben's Original. Unilever also decided to rename its Gypsy sauce product sold under its Knorr brand in Germany, while US giant PepsiCo is changing its Aunt Jemima brand of pancake mixes and syrups.