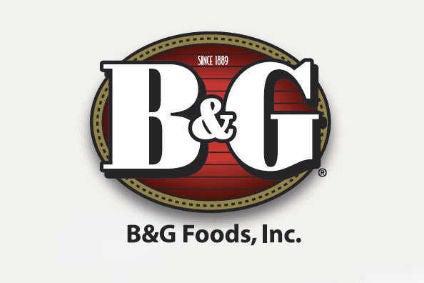 B&G Foods has reported a 61.4% increase in net income to US$30.3m in second-quarter results published yesterday (28 July).
Gross profit increased US$47.7m, or 76.9%, to US$109.7m for the second quarter of 2016 from US$62m for the second quarter of 2015. Gross profit expressed as a percentage of net sales increased to 35.8% in the second quarter of 2016 from 32% in the second quarter of 2015, an increase of 3.8 percentage points.
Net sales of the Green Giant brand owner increased by 58.2% to US$306.4m. However, base-business net sales for the second quarter of 2016 dipped US$2.5m, or 1.3%, to US$190.1m from US$192.6m for the second quarter of 2015. B&G said the US$2.5m decrease was attributable to a decrease in unit volume of US$1.6m, or 0.8%, a decrease in net pricing of US$0.7m, or 0.3%, "and the negative impact of currency fluctuations on foreign sales of approximately US$0.2m, or 0.1%.
B&G president and CEO Robert Cantwell said: "The Green Giant business continues to exceed our profitability expectations, and as a result we have increased our full year guidance for adjusted EBITDA and adjusted diluted earnings per share."
Cantwell said: "We expect to successfully complete the transition of the Green Giant business into our sales and distribution infrastructure by the end of the third quarter. During the transition services period we have reinforced our already very strong and dedicated workforce with a large collection of very talented and motivated individuals who we believe will not only help us awaken the Green Giant and bring the brand back to prominence through innovation, operational excellence and consumer awareness, but will also restore our base business to a growth trajectory in 2017."
B&G said net sales of Green Giant, acquired last November, and net sales of Mama Mary's, acquired last July, contributed US$107.2m and US$8.9 million, respectively, to the company's net sales for the quarter.
B&G said the increase in gross profit percentage was primarily driven by the acquisition of Green Giant, which benefited from lower than anticipated trade expense and input costs, particularly from the Green Giant manufacturing facility in Irapuato, Mexico, as well as greater than anticipated synergies with the company's base business.
"Gross profit percentage was positively impacted by decreased costs for commodities, packaging and distribution for the base business and improved product mix, which was partially offset by the unfavourable impact the decrease in base business sales volume had on cost absorption, a net reduction in base business pricing, and the impact of the write-off of Rickland Orchards inventory in connection with the company's decision to discontinue the brand," B&G said. Gross profit percentage, excluding the results of Green Giant, decreased 0.7 percentage points.
For the second quarter of 2016, adjusted EBITDA, which B&G said excluded the impact of acquisition-related expenses, a non-cash intangible asset impairment charge and related loss on disposal of inventory, loss on product recall and distribution restructuring expenses, increased 79.3% to $85m from $47.4m for the second quarter of 2015.