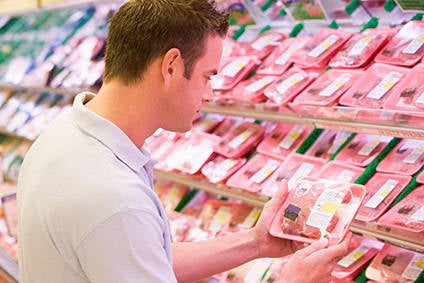 Joe Biden's administration has set out a series of measures to address inflationary meat prices, which it partially blames on US processors amid what the White House claims is a lack of competition and transparency.
The US food industry is facing rising input costs across the board linked to higher commodity, freight and packaging prices, with the inflationary environment exacerbated by a labour shortage and made worse by Covid absenteeism.
Biden and Vice President Kamala Harris claim half of the increased food prices to the consumer are coming from beef, pork and poultry, which the White House said have risen by 14%, 12.1% and 6.6%, respectively, since December.
While the US government also partly cited higher consumer demand as people were confined to their homes during the pandemic, it said in a statement yesterday (8 September) that "the price increases are also driven by a lack of competition at a key bottleneck point in the meat supply chain: meat-processing".
It pledged to take "strong actions to crack down on illegal price fixing, enforce antitrust laws, and bring more transparency to the meat-processing industry".
The White House continued: "Just four large conglomerates control the majority of the market for each of these three products, and the data show that these companies have been raising prices while generating record profits during the pandemic. That's why the Biden-Harris administration is taking bold action to enforce the antitrust laws, boost competition in meat processing, and push back on pandemic profiteering that is hurting consumers, farmers, and ranchers across the country."
Other measures announced at the ground level include providing relief to small businesses and workers impacted by the pandemic, relief and support to farmers and ranchers suffering from the effects of extreme weather, and tasking Congress to improve transparency at cattle markets.
Tyson Foods, one of the largest meat processors in the US, hit back, saying the company "categorically rejects the conclusions drawn".
"It is inaccurate to suggest that consolidation in the meat-processing industry is leading to higher prices for consumers," Tyson said in a reactionary statement.
"In fact, evidence of healthy competition can also be found by looking at historical outcomes. For example, we have seen a rise in [the] availability and quality of beef, while the price has become more affordable over the past quarter-century: data shows that while the concentration of the industry has remained relatively constant for close to 30 years, quality has significantly improved."
Tyson continued: "Multiple, unprecedented market shocks, including a global pandemic and severe weather conditions, led to an unexpected and drastic drop in meat processors' abilities to operate at full capacity. This led to an oversupply of live cattle and an undersupply of beef, while demand for beef products was at an all-time high. So, as a result, the price for cattle fell, while the price for beef rose. Today, prices paid to cattle producers are rising."
It also laid into the labour debate: "The inability of the industry to adequately staff its plants has exacerbated the situation. Labour shortages are also affecting the nation's pork and poultry supply."
Tyson backed its corner by referring to the findings of a food inflation report from the US Department of Agriculture in August detailing price increases for individual sectors, "none of which", the processor said, "are related to industry consolidation or scale".
"Tyson's scale allows it to operate efficiently, which keeps costs down for consumers. At Tyson, we rely on independent farmers and want them to succeed, because without a steady pipeline of livestock, we can't run our business," the company added.
The White House was adamant meat-industry "consolidation gives these middlemen the power to squeeze both consumers and farmers and ranchers".
"There's a long history of these giant meat processors making more and more, while families pay more at the grocery store and farmers and ranchers earn less for their products. Absent this corporate consolidation, prices would be lower for consumers and fairer for farmers and ranchers."