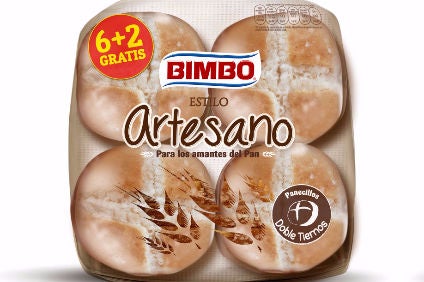 Grupo Bimbo, the Mexico-based bakery giant, has booked a rise in annual profits, helped by an improvement in sales and lower raw material costs.
However, Bimbo reported pressure on underlying sales in North America, where its business benefited from the fall in the value of the Mexican peso.
The company posted a 14.1% rise in majority net income to MXN5.9bn (US$298m) for 2016. Operating income jumped 28.1% to MXN18.08bn.
Bimbo's profits were helped by a fall in raw material costs, as well as lower restructuring expenses in the US and Europe.
Net sales rose 15% to MXN252.14bn. Bimbo pointed to the benefit of exchange rate translation on sales in North America, Latin America and Europe. However, it also cited higher volumes in Mexico and the impact of the Donuts Iberia acquisition in 2015.
Bimbo's net sales in Mexico were up 8%, "mainly driven by solid volume performance in most categories and every channel", the company said.
In North America, Bimbo's underlying sales performance was less robust. Net sales in peso terms grew 16.2%, while dollar-denominated sales declined 1.1%. Volumes "remained unchanged", Bimbo said.
A 19.9% jump in net sales from Bimbo's Latin American arm was "primarily due to the revaluation of almost all currencies versus the Mexican peso, as well as solid volume progress in most countries". Bimbo pointed to Peru, Chile and its "Latin Centro" division, where the company benefited from "more efficient routes and broader distribution".
In Europe, net sales jumped over 54% thanks to foreign exchange, the Donuts Iberia deal and "healthy sequential volume growth" in Iberia.