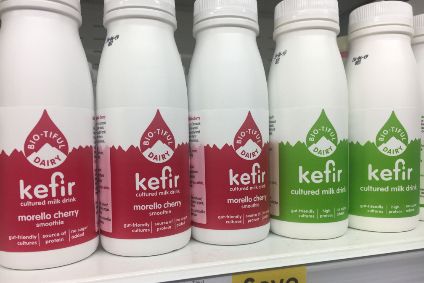 Bio-tiful Dairy, the UK-based producer of fermented dairy products, is in talks to secure more listings in Europe.
The privately-owned business, which markets a range of kefir-based food and beverages, started exporting last year and has listings in Ireland and in the Middle East.
Speaking to just-food, Natasha Bowes, who set up Bio-tiful Dairy in 2012, said the London-based firm has "irons in the fire in a few others in western Europe".
Gavin Cartland, Bio-tiful Dairy's head of commercial operations, speaking last week at a dairy industry conference in Amsterdam, confirmed talks were taking place.
"We're in discussions with some European markets that for commercial sensitivity I can't really talk too much about but, absolutely, we're looking to Europe for growth as well," Cartland told Arena International's Dairy Innovation Summit 2019, which took place in the Dutch capital on 3 and 4 April.
The UK accounts for the bulk of Bio-tiful Dairy's sales, which were GBP4.1m (US$5.4m) in 2017. Bowes said the company's top line grew to "more than twice" that level in 2018 but would not disclose the exact figure.
Bio-tiful Dairy started marketing kefir products in the UK in 2013 and Cartland said the company had been at the forefront of a growing market for fermented dairy beverages in the UK. When Bio-tiful Dairy started business, Cartland said the company faced a domestic market where fermented milk products "were not very prevalent" in the country and the firm had had to work to try to change consumer perceptions of fermented dairy.
Cartland said the kefir segment was worth an "annualised" GBP21m in January 2019, compared to GBP2m in 2017. "Dairy in the UK is in relatively modest growth across most sectors. Retailers are really interested in [fermented dairy] for obvious reasons and a lot of manufacturers are interested as well. We think that's a really good thing actually, as more manufacturers get on-board, the development of consumer understanding of the products [will come] as well."
Cartland told the Arena International event Bio-tiful Dairy believes there are "four big macro trends" driving sales of kefir in the UK, citing taste, health concerns, interest in natural products and demand for convenience.
"Consumers are seeking out products to actively help them with digestion," he said. "One of the benefits of fermented dairy beverages is they can serve as a beverage, meal replacement or a snack. It serves multiple customer behaviours and needs. People are snacking as a meal replacement and that's a macro trend that's happening right across Europe. That's part of the reason we feel the trend is growing massively in the UK from a very small base but it's also growing in markets across Europe."
He added: "There is a magic ingredient in all of it, though, which is retailers buying into it and understanding it. If you go back three years, there were around 1,500 distribution points for fermented milk in the UK; now it's up to 14,000. Retailers are backing it."
Cartland acknowledged that, in Europe, the combined market for drinking yogurt and sour milk was "not growing particularly quickly". He cited data from Euromonitor that show, across countries in the European Economic Area, the market was performing in a range of minus 2% and plus 4%.
"The key thing to pick is hotspots and there are hotspots within this, both within countries and within particular product types as well," he said. "If you take fermented beverages in the UK, you're seeing about 300% growth. Here in the Netherlands, you're seeing about 340% growth for kefir where butter milk is already very prevalent."
To further grow the market, Cartland said companies doing business in the category – and those interested in entering the segment – needed to work on building production, invest in innovation and look at ways to launch products combining product trends, as he claimed Bio-tiful Dairy had done with its launch of a line containing kefir and quark.
"We see three areas that will help develop this trend in the UK and in western Europe. First is actually a really basic requirement. How do we develop scale, high-quality manufacturing? That is not as easy as it sounds because there aren't that many people out there who can do it really well," he said.
"Flavour innovation is really key. One of the things we first realised in the UK was because consumers had a sweet palate, a sour product was relatively alien to them – and that's actually true for a beverage product across a number of markets in Europe. Bringing flavours in a couple of years after we launched was a real engine for growth for us because it brought customers into the category so it was less of a leap for them to move from any milkshake, for example, to a flavoured kefir.
"Our kefir quark talks about the gut health and the digestive trend but also about the protein trend. Combining those two, we think they'll be some growth there."