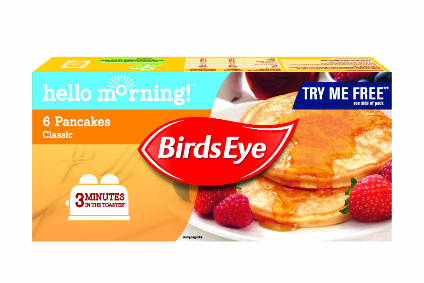 Nomad Foods has taken Birds Eye into the frozen breakfast category in the UK.
The Hello Morning! range includes toaster-ready waffles and pancakes as well as croissants, with each product available in two variants.
"Breakfast is the most important meal of the day, yet the one we give the least amount of time and thought to. We know that breakfast makes up more than one in five of all meal occasions, yet frozen plays a role in only 1%. As the leading frozen food brand, there is a huge opportunity for Birds Eye to drive interest in the category and disrupt the traditional and boring routine of cereal or toast. We anticipate that by the end of the year, we will add GBP9m (US$12.7m) to the frozen breakfast occasion," Steve Chantry, Birds Eye's UK marketing director, said.
Hello Morning! products will have an RRP of GBP1.79.