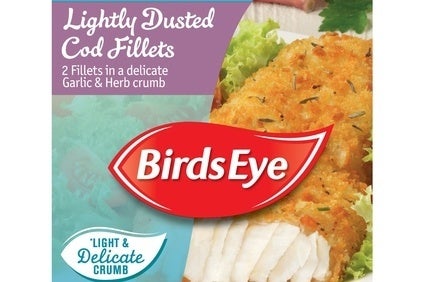 Birds Eye is expanding its product range in the UK.
The frozen seafood processor is launching three new products and said they are part of its "ongoing commitment to cater for the evolving needs of consumers".
It has launched Birds Eye Lightly Dusted Cod Fillets, what it claims is the "first branded range of cod-based products to the Lightly Coated Fish sector". The product is available in three variants: Lemon & Black Pepper, Sea Salt and Rosemary and Garlic & Herb.
It is also introducing two new pasta variants to its Birds Eye Steamfresh range: Garlic & Herb Penne Pasta and Pesto Vegetable Penne.
Birds Eye UK marketing director, Steve Chantry, said: "As one of Britain's most iconic and trusted brands, we pride ourselves on listening to consumers to ensure we are doing all we can to cater to their needs through our constant product improvements and innovations. Both our Lightly Dusted Cod Fillets and Steamfresh pasta additions have been developed as a direct result of feedback from our consumers, expanding our offering of delicious meal options that are easy to prepare and provide a hassle free cooking experience."
The Birds Eye Lightly Dusted Cod Fillets are available at an RRP of GBP2.99 (US$4.50) and the Steamfresh products at GBP1.79 at supermarkets throughout the UK.