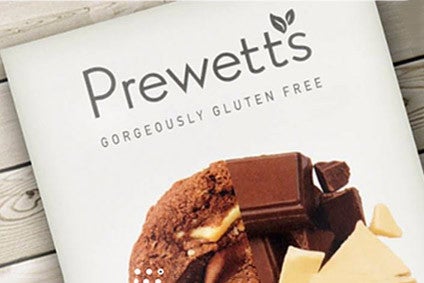 Europe's Biscuit International has acquired the UK's Northumbrian Fine Foods, a manufacturer of gluten- and milk-free biscuits, from CriSeren Foods for an undisclosed amount.
Northumbrian Fine Foods, which owns the Prewett's brand and supplies supermarkets with own-label biscuits, generated a turnover of GBP27m (US$36.3m) last year.
Biscuit International said the purchase will solidify its position in the UK, expand both its product offerings and geographical reach, and help the company better embrace the growing consumer trend for organic and free-from foods. The company has brands such as Poult in France, Banketgroep in the Netherlands and A&W in Germany under its wings.
According to data from Euromonitor, the European market for gluten- and milk-free products is expected to generate GBP8.7bn in sales by 2021, a 60% increase from 2016.
Giampaolo Schiratti, Biscuit International's chief executive, said: "The European free-from market is very dynamic and represents a real opportunity for growth. We aim to further develop the business [Northumbrian) through innovation and creating exciting new products for the UK and European markets, and we anticipate this acquisition will lead our group to become Europe's largest producer of gluten- and milk-free sweet private-label biscuits and strengthening the partnership with our customers, whether they are retailers or industrials."
Northumbrian Fine Foods' managing director, Stewart McLelland, said the acquisition by Biscuit International will help the company expand its footprint in Europe.
"Biscuit International are a forward-thinking business and their plans for NFF will further enhance our position as the UK's number one gluten- and milk-free biscuit manufacturer," he added. "We are very proud of our achievements here at NFF and through the hard work of all our staff we have created a sustainable and secure business with a great future."