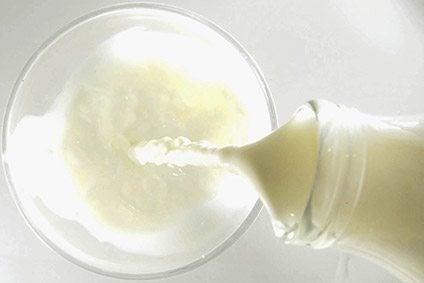 China's dairy imports are likely to decrease at a double-digit rate this year primarily due to a drop off in demand as a result of Covid-19, according to Rabobank, which predicts the virus and falling oil prices will trigger a global recession.
The assumptions were made by the Dutch investment bank in its latest quarterly dairy report, which envisages total dairy imports of "liquid milk equivalents" (LME) into China will fall 19% in 2020. However, it forecasts demand in China will pick up in the second half of the year, subject to risks.
"Rabobank believes there has been a shift in the global market fundamentals," the Utrecht-based lender said. "A material reduction in China's 1H 2020 import requirements looms over the global market balance."
It added the forecast for Chinese dairy imports is "based on anticipated lower dairy demand in retail and foodservice channels and a build-up in milk powder stocks, on top of large carry-over stocks and further expansion in local milk production through 2020".
Rabobank continued: "The outbreak of the coronavirus is a significant event that is weighing on market sentiment and the 2020 outlook. The underlying assumption is that many of the disruptions in China will normalise by the end of Q2 2020."
In the wider context, Rabobank anticipates an already fragile global economy – before the onset of Covid-19 – will slip into a recession on the back of the outbreak and the decline in oil prices on world markets. "This may more negatively impact dairy demand in the upcoming months than previously anticipated," it said.
Increases in global dairy prices seen in the final three months of last year have stalled this quarter, the bank noted, with "buyers and sellers scrambling to assess the market impact" from coronavirus.
"Rabobank anticipates China's consumer buying patterns to normalise by 2H 2020, with evidence of improvement in some supply chains already visible," the report noted. "The risk of a setback or a delayed economic recovery in China presents a major downward price risk to Rabobank's current forecasts."
The lender added that measures taken by countries around the world to curb the spread of Covid-19 could have a "greater-than-expected impact on dairy demand and supply chains", with evidence already showing an impact on the foodservice sector in "several markets". It said South-east Asia is a "particularly vulnerable region".
Rabobank said: "The combination of reduced Chinese imports, significant supply chain disruptions, including extreme competition for shipping containers across the globe, and rising dairy surpluses in export regions, will keep downward pressure on global markets through much of 2020.
"Nonetheless, the rate of growth in surplus milk will be restrained, and lower commodity prices in the face of weaker economic growth will support buyers in price-sensitive regions that are not dependent on oil revenue. Based on the forecast fundamentals through 2020, this should lead to a downcycle in global dairy markets."
The lender said dairy categories such cheese, butter, and whipped cream – the most exposed to the foodservice sector – may "see more damage in import demand" from China. It predicts the shuttering of restaurants in the country and the tail-off in consumer traffic will cause a decline in cheese imports of 16,000 million tons this quarter, equivalent to 58% of inbound shipments for the corresponding period a year ago.
However, in terms of LME, Rabobank said the decline in imports into China this year "is not expected to be as severe as the 2014-2015 destocking, which resulted in a decline in liquid milk equivalent imports of more than 35% over 12 months".
Breaking down the 19% full-year drop in its forecast for China, Rabobank expects the overall dairy import requirement for LMEs to decrease 23% in the first half and 16% in the second.
"Significant demand and supply chain disruptions will reduce China's appetite for imported dairy products and ingredients," it said. "Increased domestic surplus milk being processed into milk powder is the key driver reducing import demand."
See just-food's round-up on the Covid-19 impact on the food sector.