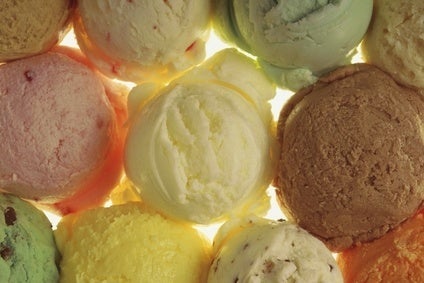 Blue Bell Creameries, the US ice cream firm linked to a fatal listeria outbreak, has pulled all of its products from the market after fresh tests found more contaminated products.
Two samples of chocolate chip cookie dough ice cream tested positive for listeria, prompting Blue Bell, which had already recalled some products, to call in all lines.
The wider recall includes ice cream, frozen yoghurt, sherbet and frozen snacks distributed in 23 US states and in international markets because other products "have the potential to be contaminated", Blue Bell said.
President and CEO Paul Krause said: "We're committed to doing the 100% right thing and the best way to do that is to take all of our products off the market until we are confident that they are all safe. At every step, we have made decisions in the best interest of our customers based on the evidence we had available at the time.
"Through further internal testing, we learned today that listeria monocytogenes was found in an additional half gallon of ice cream in our Brenham facility. While we initially believed this situation was isolated to one machine in one room, we now know that was wrong. We need to know more to be completely confident that our products are safe for our customers.
"We are heartbroken about this situation and apologise to all of our loyal Blue Bell fans and customers. Our entire history has been about making the very best and highest quality ice cream, and we intend to fix this problem. We want enjoying our ice cream to be a source of joy and pleasure, never a cause for concern, so we are committed to getting this right."
Krause added: "As Blue Bell moves forward, we are implementing a procedure called test and hold for all products made at all of our manufacturing facilities. This means that all products released will be tested first and held for release to the market only after the tests show they are safe. At this point, we cannot say with certainty how listeria was introduced to our facilities. We continue to work with our team of experts to eliminate this problem."
Blue Bell first pulled some lines from the market last month. Ice cream made at its Brenham site in Texas was found to be contaminated with three of four strains of listeria found to have infected patients at a hospital in Kansas. Three of this cluster of patients have died.
The company extended the recall two weeks later after a second cluster of three patients with listeriosis between 2011 and 2014 was, according to the US Centers for Disease Control and Prevention, found to be "highly related" to samples from a single-serve ice cream cup made at a second plant in Broken Arrow, Oklahoma.
On 3 April, Blue Bell suspended operations at the Broken Arrow site. On 7 April, Blue Bell expanded the recall of products made in Broken Arrow.