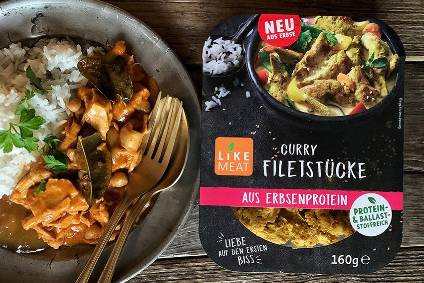 LikeMeat, the Germany-based meat-alternatives business, has a new majority shareholder in the shape of US-based Foods United, a new firm backed by Swiss fund Blue Horizon and meat giant PHW-Gruppe.
Foods United, set up in 2019 to invest in suppliers of plant-based meat alternatives, has acquired a 51% stake in LikeMeat, a Dusseldorf-based business that exports to European countries and the US.
Financial terms for the deal were not disclosed. In a statement issued by PHW-Gruppe, which has a stake in Foods United, it was stated LikeMeat "generates a turnover in the double-digit millions".
Björn Witte, a member of the Foods United board that also includes former Unilever executive Kees Kruythoff, said: "This strategic investment of a 51% stake in LikeMeat is a key first step in establishing a corporate group in the highly dynamic field of plant-based foods. We look forward to actively supporting the LikeMeat team in product development and marketing in the future."
LikeMeat, founded in 2013, employs around 100 staff across its Dusseldorf headquarters and a production facility in the Dutch town of Oss.
Timo Recker, LikeMeat's founder and managing director, described the deal as "a strong signal for the market" and said it would "transform LikeMeat from a successful start-up into an international company and truly global brand".
PHW-Gruppe is one of Europe's largest meat processors. In recent years, the company has made a series of investments in fledgling companies doing business in the emerging industries offering alternatives to meat.
In January 2018, German poultry producer PHW-Gruppe formed a strategic partnership with Israeli cell-cultured meat business SuperMeat to provide financing to the Tel Aviv-based start-up to bring its chicken-alternative products to market.
In September 2019, PHW-Gruppe was part of a consortium that invested in Israel-based Redefine Meat, a business working in the field of producing alternatives to conventional meat via 3D printing.
Blue Horizon is the majority shareholder in Foods United. The investor has backed a series of plant-based companies, including Beyond Meat, UK vegan confectionery firm LoveRaw, US seafood-alternatives business Good Catch and Swiss meat-alternatives supplier Planted Foods.