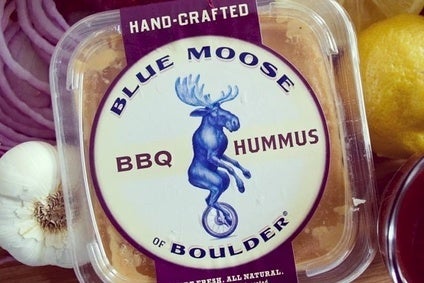 Blue Moose of Boulder has said it intends to accelerate its sales growth after an investor group, led by former Bacardi CEO Ed Shirley, took a majority stake in the US houmous maker and filled leading management positions.
As well as heading up Bacardi, Shirley has also served as vice chairman of Procter & Gamble. He will takeover as chairman of Blue Moose.
Shirley said he was attracted to the natural houmous and spreads maker because of its differentiated "craft" offering. "Consumers increasingly are trending toward natural snacking options and we believe that Blue Moose of Boulder's authentic, hand-crafted and high-quality ingredients will continue to resonate in the marketplace. I look forward to helping the company achieve its accelerated growth plans," Shirley said.
Lead investors taking a role at Blue Moose also include Dan Fink and Fred Howard. Fink will support strategic initiatives at Blue Moose. He has extensive experience in the private-equity sphere and recently served as global VP of finance, business and strategic planning at Bacardi.
Howard, a CPG executive who has held leadership roles at Gillette and Procter & Gamble, will serve as CEO. Most recently, Howard was CEO of Metagenics, a nutraceuticals company.
"We are excited about the growth prospects of this Boulder-based brand with a rich history of natural and hand-crafted products dating back to 1997. I look forward to working with our team members and valued customers to advance our award-winning products," Howard said.
"We are proud of what we have achieved at Blue Moose with our team and our customer partners," said Bert Sartori, current general manager of Blue Moose. "We look forward to supporting this experienced consumer focused Investor Group and accelerating our plans."
The transaction closed in early October. Terms of the transaction were not disclosed.