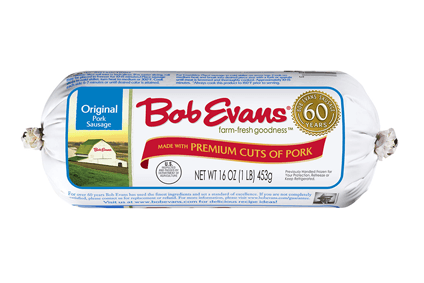 Bob Evans Farms, the US food manufacturer and restaurant operator, has cut its forecasts for sales from its packaged foods arm, saying reduced sow cost forecasts are set to result in lower sausage prices.
Updating its guidance alongside the publication of its second-quarter results booked yesterday (5 December), the company said it had lowered the sales outlook for its BEF Foods division to US$390m to $410m – down from $400m to $420m previously – with increases in trade spending expected "to reflect an increased competitive pricing environment from lower sow costs".
The net sales from BEF Foods in the second quarter to 23 October increased 2% to $96.2m year-on-year. "Pounds sold increased 6.9% while average net selling price per pound declined 4.6% compared to the corresponding period last year," the company said.
The company said the fall in average net selling price "reflects an increased sales mix of lower-priced, although higher-margin, side-dish products relative to sausage, as well as reduced net sausage pricing through increased trade spending".
However, the operating income from BEF Foods was $18.7m, compared to $14m in the year-ago period. The division's operating income in the previous year included a $3.6m charge to reflect the loss on the sale-leaseback of the company's Sulphur Springs manufacturing facility, the company said. Excluding that charge, the operating income from BEF Foods was $18.7m compared to $17.6m in the year-ago period. The improvement was due primarily to increased volume, the company said.
President and CEO Saed Mohseni said Bob Evans Farms is "evaluating additional growth opportunities" for BEF Foods, "including investments in our plant network as well as acquisitions, to further improve manufacturing efficiency and production capacities as we aggressively target new product authorisations at our existing retailers, and new retail account authorisations, particularly on the West Coast and with national big-box chains".
Bob Evans Farms has been facing pressure from parts of its investor base in recent quarters to offload its BEF Foods packaged foods arm. Alongside the second-quarter results, Mohseni said the Bob Evans Farms board is working with J.P. Morgan "to review and evaluate potential opportunities for value creation". He said: "There is no formal timeline for the completion of the review and there can be no certainty that the review will result in a particular outcome."