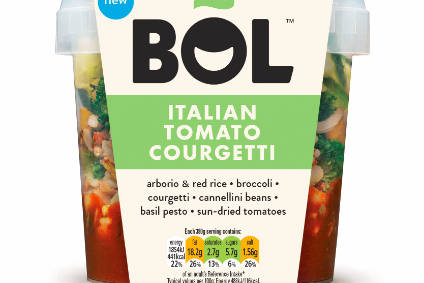 UK natural food company Bõl is expanding its line of meal pots in the UK with the launch of two new items: Italian tomato courgetti and Moroccan chicken tagine.
Bõl's Italian tomato courgetti is vegetarian and contains: courgettes, arborio and red rice, broccoli, cannellini beans and basil pesto in an Italian-style sundried tomato sauce. Meanwhile, BOL's Moroccan chicken tagine meal pot is low in fat and high in protein. It contains spiced chicken, giant couscous, roasted butternut squash, turmeric chickpeas, dried apricots and lemon.
The meal pots account for one of your recommended five portions of fruit and vegetables per day and have been developed in collaboration with nutritionist Ian Marber, "the food doctor".
Bõl's meal pots are ready to eat in three minutes. "They are perfect for busy people on the go who don't want to compromise on taste," Bõl said.
Bõl Italian tomato courgetti and Moroccan chicken tagine are available at Tesco, Sainsbury's and Waitrose throughout the UK and online at Ocado for an RRP of GBP3-3.50 (US$3.95-4.61).