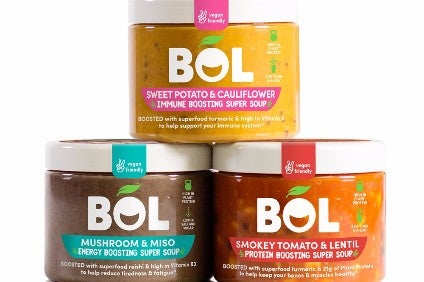 The UK's Bol Foods has launched a range of 100% plant-based, high protein, fresh soups.
The London-based natural food company said it is "de-bunking the myth that plant-based products do not deliver enough protein".
Its expansion into the grab-and-go soup category sees it launch three vegan-friendly, dairy and gluten-free soups. They will be sold at Tesco and via Ocado and Amazon Fresh nationwide from 9 November with a RRP of GBP2.75 (US$3.62).
Bol said the new range has been developed in response to growing demand from consumers who are "seeking out more interesting and healthier soup options, as well as plant-based protein alternatives".
Its 'super soups' range has been developed in collaboration with soup chef and cookbook author Nicole Pisani and is made up of Smokey Tomato & Lentil Protein Boosting Super Soup, Sweet Potato & Cauliflower Immune Boosting Super Soup and Mushroom & Miso Energy Boosting Super Soup.
Pisani and Bol have designed a plant-powered stock, which is the base of each recipe, and is made up of a wide range of fresh vegetables, herbs and spices.
Under the guidance of nutritionist Ian Marber, each soup is boosted with nutrient-rich 'superfoods' and vitamins, has less than 350 calories, and provides up to three of your 'five a day'.
Bol founder Paul Brown said: "The team has been working hard to create this new range which we are aiming will revolutionise the soup category."
The company said it plans to double the range in January.
Bol went meat-free in its product range and re-launched as a plant-based brand in May.
Explaining the decision, Brown said at the time: "Over the past few years we have become increasingly aware of the responsibility that we have to
change the way we eat for both our health and the well-being of the planet and we want to make it easy for people to eat less meat and more plants."