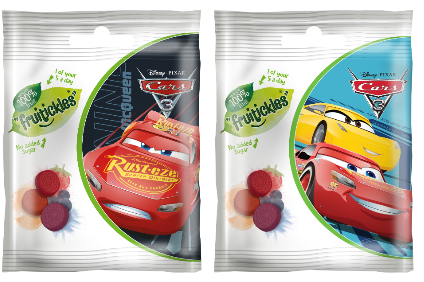 Bon Bon Buddies is launching Fruitickles, its latest product developed under its tie-up with Disney and one which the UK-based confectioner believes claims set the entertainment giant apart from rivals in the licenced confectionery market.
Fruitickles is a range of sweets "made with 100% fruit" and "is a healthier alternative to standard confectionery on the market, especially as many other products that promote themselves as fruit-based products only, in fact, contain about 0-6% fruit", Bon Bon Buddies managing director Justin Thomas said. "We have a healthy relationship with Disney and have helped them take many of their products to market over the past 14 years. It is this that led to Disney challenging its global partners, including Bon Bon Buddies, to come up with a brand and product that would set Disney apart in the licenced confectionery market. Our Fruitickles concept, brand and product, made with 100% fruit, met all of those credentials."
The companies are hoping to start selling the sweets across the Europe, the Middle East and Africa from May. "As we are in the early launch stages, we cannot reveal exact retailers at this point," Thomas said.
Bon Bon Buddies' product range includes all-year round and seasonal confectionery, including chocolate and sugar confectionery. Asked whether launching fruit-based confectionery could hit the sales of its existing range, Thomas said: "Our market research has shown that, although consumers are looking for a healthier alternative confectionery, there is still an affinity with traditional sweets. Our confectionery offering encapsulates many different types of products and it's important to us that we offer a choice for consumers."
In the year to the end of April 2016, Bon Bon Buddies generated turnover of GBP44.4m (US$55.8m), up 13.4% on a year earlier. Operating profit stood at GBP2.1m, compared to GBP1m the previous year. Net profit was GBP1.7m, against GBP861,000 in the 12 months before.
On Bon Bon Buddies' performance in its current financial year, Thomas said: "We've had an exceptional year so far and we are currently on track to meet our expectations and budget for our next financial year."