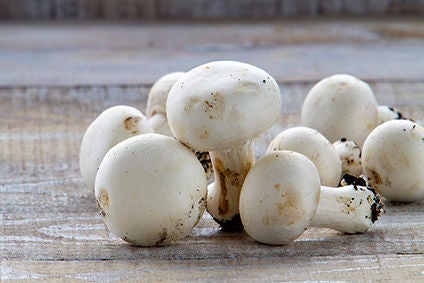 Bonduelle believes domestic mushroom processor Coopérative Agricole France Champignon – of which the French veg giant owns a 50% stake – can have a viable future despite filing bankruptcy proceedings.
Grégory Sanson, Bonduelle's deputy CEO, said Coopérative Agricole France Champignon has suffered due to over-capacity in Europe's mushroom market and competition from cheaper rivals hitting selling prices.
Bonduelle markets the mushrooms processed by the co-op mainly through private-label contracts for canned and frozen products with retailers. Sanson told just-food Bonduelle, which supplies half the mushrooms the co-op processes, thinks the loss-making business can recover.
"We are sure we can promote the French origin [of the mushrooms] to all our distributors and our big customers, the consumers," Sanson said, setting out how the business, which he added is France's only mushroom processor, could bounce back. "We're working together with the retailers to promote this origin and to increase the prices to all the consumers."
Bonduelle acquired the stake in Coopérative Agricole France Champignon when it bought the France Champignon holding company from private-equity group Butler Capital Partners in 2010.
Coopérative Agricole France Champignon has France as its main market but the processor also sells mushrooms in other European countries, with Germany as its second market. The co-op is, however, facing competition from processors in other nations, Sanson said. "Competition is now in Poland and also Belgium, Netherlands and Spain," he said. "The over-capacity in Europe is mainly due to the competition from fresh mushrooms, for the large part coming from Poland, which is very competitive considering the currency situation of the Polish currency, the zloty."
Sanson added: "We have to work with all the stakeholders to find the appropriate structure of the processing plants, making sure that we are competitive enough. We are working actively with the stakeholders, by that I mean the mushroom growers, to maintain this activity in France."
News of the start of bankruptcy proceedings at Coopérative Agricole France Champignon came in a stock-exchange filing Bonduelle published to announce its first-quarter sales.
"The impact on the Bonduelle Group in terms of the supply of processed finished products and the financial consequences resulting from the difficulties of the Coopérative Agricole France Champignon will depend not only on the scenario adopted and the terms and conditions of its implementation, but also on the development of the insolvency proceedings," the company informed the market.
In three months to the end of September, Bonduelle saw its revenue dip 0.6% to EUR680.5m (US$808.6m). On a like-for-like basis, revenue inched up 1.9%. The company maintained its forecasts for its annual sales to rise on a like-for-like basis and for its current operating margin to be "substantially equivalent to last year". Last year's figure was 3.8%.