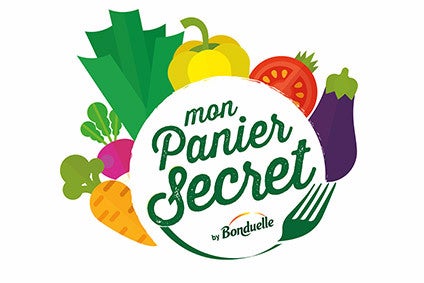 French canned and frozen food group Bonduelle has launched a service enabling consumers in its domestic market to have the company's products delivered to their homes together with help in making the most of cooking.
Bonduelle said the new service, My Secret Basket, aims to encourage people to cook and support the company's wider objective of being a "reference to ensure well-being through a vegetable diet" by providing food products and culinary support. The company said the service derives from an idea mooted two years ago.
Through the service, Bonduelle said it aims to "develop a network of sellers" for its products and "make everyone want to cook and awaken the sleeping chef within us all".
The company is supporting the move by using its Facebook site to recruit a network of "ambassadors" for My Secret Basket. Potential recruits should "like vegetables, love cooking and value" the Bonduelle and Cassegrain-branded products, the company said.
My Secret Basket ambassadors will earn commission by helping support home sales of Bonduelle products and build "direct relationships with consumers" by supporting product promotional activities such as cooking workshops to offer "tips and tricks for cooking vegetables", Bonduelle said.
Last November, Bonduelle reported first-quarter sales growth lifted by a strong performance of its businesses outside the Eurozone. The company said its sales in the three months to 30 July increased 3.7% to EUR479.8m (US$505.8m). Stripping out the impact of currency exchange, sales increased 4.6%.