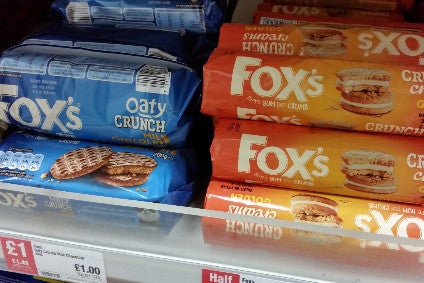 Boparan Holdings, the owner of 2 Sisters Food Group, is reportedly considering selling off its Fox's biscuit unit.
The poultry-to-ready meals maker has instructed investment bank Rothschild to contact potential buyers to gauge interest in the business, according to a report in the Wall Street Journal which cited unnamed sources. Fox's is believed to be valued at around GBP250m (US$372m).
A representatives at Boparan declined to comment and Rothschild did not immediately respond to requests for comment.
Boparan took control of the Fox's business as part of its 2011 acquisition of UK peer Northern Foods in a deal valued at GBP341m. However, following a period of rapid expansion via acquisitions including Northern and the UK assets of meat group Vion, 2 Sisters saw profits come under pressure. At first, the company struggled to manage its debt burden and deleverage its balance sheet and now Boparan is grappling with falling sales in a down market, which have resulted in margin contraction.
At the start of its 2015/16 fiscal year, Boparan outlined a strategy of building a "better before bigger" business as it posted a further decline in first quarter sales and profit at 2 Sisters Food Group.
As part of this drive, the company's focus has been on delivering improvements at its poultry and meal solutions businesses. 2 Sisters announced an investment programme including a GBP150m spend to strengthen its poultry business and the investment of GBP55m in its meal solutions unit. In contrast, Boparan said that the performance at Fox's – part of its branded division – was "strong" despite a "competitive environment". The company said revenues were up "substantially" over the period, with growth supported by NPD including the launch of Fox's chocolatey range and Fox's fingers.