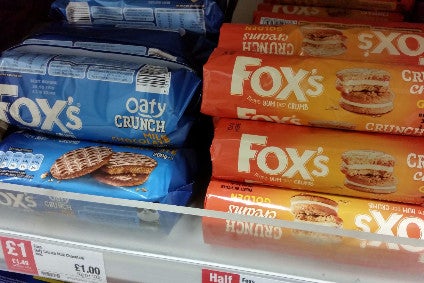 Boparan Holdings , the company behind the UK's 2 Sisters Food Group , this morning (16 March) reported a rise in underlying sales and improved profitability for the second quarter of its financial year.
The Fox 's biscuits and Goodfella's pizza owner booked sales of GBP792m (US$1.12bn) for the 13 weeks to 30 January, down 0.6% on the corresponding period a year earlier.
However, the group did report an increase in like-for-like sales, which inched up 0.4% to GBP800.1m. The result compared to a 2.3% fall in the first quarter of the financial year.
Boparan said its branded division – including Fox's, Goodfella's and Holland's pies – saw like-for-like sales rise 4% in the quarter.
The group's chilled business saw its like-for-likes grow 0.8%.
Boparan's biggest division – protein – reported "broadly flat" like-for-like sales of GBP530.7m.
The business posted operating profit of GBP22.1m for the quarter, compared to an operating loss of GBP4.3m a year ago. Boparan said its operating profit is calculated pre-exceptional items and includes profits or losses on the group's share of joint ventures.
Profit after exceptional items, before interest and tax was GBP20.3m, versus a loss of GBP7.6m a year earlier.
Retained profit after exceptional items, interest and tax stood at GBP3.1m, against GBP16.7m in the second quarter of the previous financial year.
Boparan Q2 results by division
Protein
LFL sales flat at GBP530.7m.
Operating profit of GBP7.1m vs an operating loss of GBP7.7m a year ago.
Chilled
LFL sales up 0.8% at GBP165.7m.
Operating profit of GBP3.7m vs GBP2.6m.
Relaunch of Indian meals led to "large increases" of YOY sales.
Branded
LFL sales rise 4% to GBP103.7m.
Operating profit of GBP11.3m, up sharply from GBP0.8m YOY.
Fox's sales "growing".
Sales of Holland's pies "accelerated" in Q2.