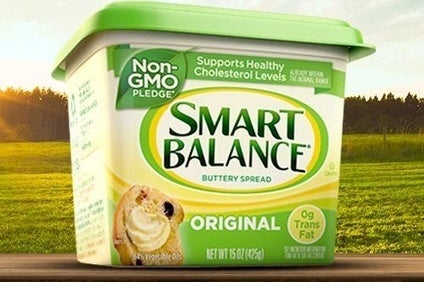 Shares in Boulder Brands slumped today (22 October) after the US spreads and gluten-free business said impairment charges on its Smart Balance business would lead it to report a third-quarter loss.
The company also reduced its forecast for its underlying fourth-quarter earnings per share.
In a set of preliminary results for the quarter to 30 September, Boulder said it expected to post a net loss of US$129.5m and an operating loss of $135.1m.
Those figures compare to a net loss of $1.6m and an operating profit of $8.4m for the third quarter of 2013.
Boulder said it was expecting estimated non-cash goodwill and trade name impairment charges of $147.5m on its Smart Balance business, which has been under pressure of late.
Smart Balance has been struggling to grow sales in the US spreads category, leading to Boulder's margins being hit as the profile of its sales becomes more weighted to its growing "natural" business – which houses gluten-free brands like Udi's – but generates a lower margin.
Chairman and CEO Stephen Hughes said: "During the third quarter, we faced a number of headwinds that impacted our financial results. Smart Balance continued to face challenges in the spreads category, resulting in a larger-than-expected decline. In addition, as noted on our second quarter call, the mix shift of our fast-growing, lower margin natural segment is significantly outpacing our higher margin balance segment and is therefore putting increased pressure on our gross margins."
The company expects third-quarter net sales to be around $133.9m, an increase of 13% on the year. Organic net sales increased approximately 8% and "organic consumption growth" increased approximately 12%, Boulder said.
Hughes added: "While we are disappointed with our results, consumption is in line with our guidance and tracking ahead of sales, which is a positive indicator for the health of our business. We expect consumption in the fourth quarter to be in line with the third quarter, but are expecting lower shipments due to a normalising of certain inventories at our largest customer. We look forward to detailing our strategy and outlook for the fourth quarter and 2015 on our upcoming earnings call."
Boulder also said non-GAAP diluted earnings per share for the fourth quarter of 2014 is expected to be in the range of $0.04 to $0.06, compared to its prior guidance of $0.18 to $0.20.
Shares in Nasdaq-listed Boulder were down 22.23% at $9.90 at 12:00 ET today.