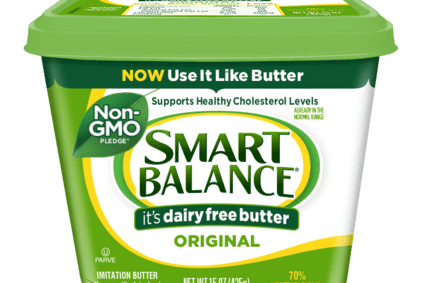 US group Boulder Brands is relaunching its Smart Balance spreads dairy-free in a fresh bid to revitalise the line's sales.
The company, which last year made the spreads as non-GMO, said it was responding to feedback from consumers.
"We heard from our consumers that buttery spreads aren't living up to the performance of butter, so we decided to make this change in response to consumer demand," Duane Primozich, executive vice president of Boulder's Balance Brands division, said. "This new dairy-free formula really does perform like butter."
Boulder executives first revealed the changes in a conference call last month to discuss the company's fourth-quarter, which included a decline in sales of Smart Balance spreads. Boulder's Smart Balance business has been under pressure in recent quarters. In October, Boulder booked US$150.5m in impairment charges on the Smart Balance brand, which led to an annual operating loss of $116m, compared to operating income of $44.9m in 2013.
On the fourth-quarter call, Boulder's management told analysts the relaunch of Smart Balance spreads as dairy-free would help the brand in move away from the "challenging" traditional spreads category, where, it claimed, retailers were unhappy with recent moves from the brand's biggest competitor.
CEO Stephen Hughes said: "We have had very positive feedback from retailers, and at the same time our largest and most direct competitor is reducing oil content, moving their formula to 55% water, 45% oil at a time we are moving our oil content up. We're getting some indications from both customers and consumers that that competitive move is not being received well, so it could create a nice environment for us as we roll out the dairy-free butter."
Hughes added: "The retailers are very concerned about the move that I Can't Believe has taken relative to really what the category of spreads stands for, and they get the dairy-free butter strategy."
Unilever changed the recipe for its I Can't Believe It's Not Butter brand last autumn, which it described as "a ground-breaking innovation".
Boulder said its dairy-free Smart Balance spreads contain "higher non-GMO vegetable oil content and less water".