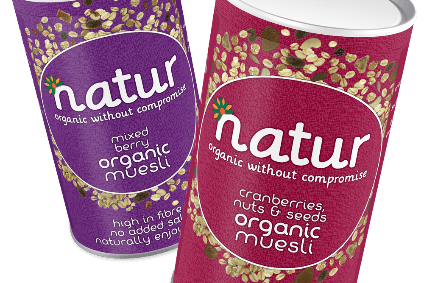 Brands Direct, the UK private-label supplier, is launching its first branded product – Natur organic muesli.
The brand will initially feature two SKUs that come in a re-sealable tube: Mixed Berry and Cranberry & Nut. It is being rolled out exclusively to Waitrose with an RSP of GBP3.50 (US$5.10). Further extensions are planned for next year, the company noted.
Brands Direct, which distributes Post Holdings' Grape-Nuts in the UK as well as producing private-label items for the country's multiples, said it is launching the brand to capitalise on growing demand for organic foods and "simple" ingredients.
"Consumers are actively seeking simpler, less processed food and are increasingly focusing more on product quality and natural ingredients to help meet their needs. Given the importance of a healthy breakfast, organic cereal surprisingly remains an under-developed opportunity for the category," the food maker noted.
Tony Fosh, account director for Brands Direct, said by addressing these needs, the company can help improve the fortunes of the struggling breakfast cereal category. "This sustained level of interest and resurgence in sales of organic food will provide a much needed opportunity to add value back into the hard hit cereal category," he suggested.