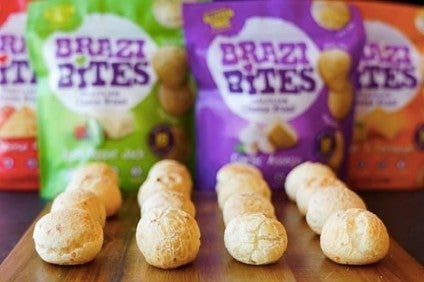 Brazi Bites, a US company making Brazilian cheese bread sold in retailers including Kroger and Target, has sold a majority stake in its business to private-equity firm San Francisco Equity Partners.
Portland, Oregon-based Brazi Bites, set up in 2010, said the deal, struck for an undisclosed sum, comes as it looks to expand into other categories.
"The popularity of our Brazilian cheese bread line has positioned the company well to expand into adjacent categories. Over the next few years, Brazi Bites will become a platform for delicious, better-for-you, Latin American foods," Brazi Bites co-founder and CEO Junea Rocha said. "We are excited for this new partnership to accelerate the distribution growth for our current product offering and pursue the numerous growth opportunities for our brand."
Rocha is one half of a husband-and-wife team that has grown Brazi Bites to a business selling into 6,000 stores in the US, including at chains like Whole Foods Market and Costco. Next month, Brazi Bites is launching into Canadian grocer Loblaw. Brazilian cheese bread, or pão de queijo, is a staple Brazilian snack.
"Brazi Bites is a trendsetting brand at the forefront of the 'freezer revolution' and their growth within the industry reflects that," Scott Potter, managing partner at San Francisco Equity Partners, said.
Brazi Bites joins a San Francisco Equity Partners portfolio that includes Red Monkey Foods, a US manufacturer of own-label organic spices and seasonings, which the private-equity firm bought in January 2017.