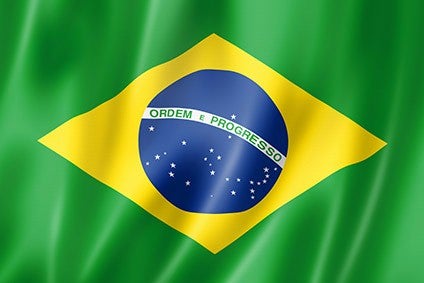 Brazil's agriculture ministry is working with its trading partners to avoid a fresh ban on meat exports from the country in the wake of last year's bribery scandal and allegations of unsanitary conditions at the country's biggest processors.
Meat giant JBS and chicken processor BRF were among Brazilian companies investigated in 2017 under the so-called Carne Fraca probe, which became known as 'Weak Flesh'. The allegations centred on bribes made by corporate executives to politicians and paying inspectors at the Ministry of Agriculture to overlook unsanitary practises.
It emerged this month that the European Commission is debating whether to strike off certain Brazilian meat companies from its approved suppliers list following the probe.
Brazil's Agriculture Minister Blairo Maggi said yesterday (13 March) on the sidelines of the Latin America World Economic Forum in Sao Paulo it was possible some meatpacking plants could be banned by importing countries due to new investigations at firms accused of evading safety checks and bribing inspectors to conceal problems, Reuters reported.
The news agency went on to say the agriculture ministry last week temporarily suspended meat exports from plants in the towns of Rio Verde and Mineiros, in Goias state, and Carambei, in Parana state, which belong to BRF.
A spokesperson at the European Commission's Health and Food Safety department confirmed this week a draft proposal to ban meat imports was presented to the Member States Standing Committee on Plant and Animal Food and Feed on 28 February. However, a decision is still pending.
"The draft text proposes indeed to de-list certain Brazilian establishments from which imports of products of animal origin are currently authorised," the Commission spokesperson told just-food. "And the measure is indeed related to the deficiencies recently detected in the Brazilian official control system."
BRF has announced it is putting some employees on holiday leave at the Mineiros plant due to work being carried out to expand its cutting line, but stressed there was no connection to the recent management shake-up or the Carne Fraca probe. Employees, the appropriate union and the Public Ministry were informed of the decision in January and February, a company spokesperson told just-food.
Holidays of 30 days will be taken by employees who work in turkey production as of 12 March and another 623 employees who work on the chicken line leave the same date for ten days, all with compensation, the spokesperson added.
Last week, Brazilian police arrested Pedro Faria, the former chief executive of BRF, on charges he engaged in fraud to evade food safety checks. According to Reuters, in a court ruling authorising the arrest of Faria, Judge André Duszczak said the former BRF boss and other company executives moved to cover up claims of possible food contamination.
Reuters quoted police as saying Faria, BRF's CEO between 2015 and 2017, had been taken into custody in Curitiba, Paraná, along with Helio Rubens Mendes dos Santos Junior, who recently resigned as vice president of global operations.