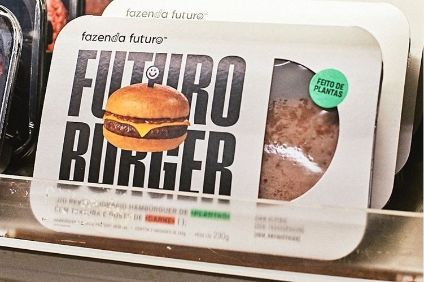 Fazenda Futuro, a meat-free start-up founded last year in Brazil, plans to enter the UK and Germany in the next two months after marking its European debut in the Netherlands in February.
The meat-alternative business was started by Marcos Leta and Alfredo Strechinsky in April last year and has already complemented the inaugural launch of the plant-based Futuro Burger with the addition of ground beef, meatballs and sausage, along with a host of new geographical markets.
Having started out with distribution across Brazil, the company has since expanded in South America and is now present in Chile, Mexico and Uruguay. Its latest addition is Dubai in the United Arab Emirates, where it launched this month and has received halal certification, a Fazenda spokesperson confirmed.
The moves in the Netherlands and the UAE is intended to serve as gateways into Europe and Asia, the spokesperson said, adding that Fazenda also plans to launch in China later this year.
To cater to its new markets, Fazenda has increased production capacity at its sole facility in the city of Volta Redonda, Rio de Janeiro, from 115 tons to 600 tons with the addition of new equipment, helped by an US$8.5m cash injection last year by a group of investors. The site is large enough to accommodate further expansion, the spokesperson added, declining to provide details on the investment in the plant.
"The expansion of the production capacity of our factory in Brazil is the starting point for the growing expansion of the brand," co-founder and chief executive Leta said. "With this change, which has been happening since the beginning of the year, it was possible to feed the national and Latin American market and still send 20 tons to Europe."
Brazil is home to traditional meat giants such as JBS, BRF, Marfrig Global Foods and Minerva, but Fazenda aims to make the country a "global player in the production of plant-based meat", according to the CEO, who said the company intends to increase exports to 75 tons in the "coming months".
All of Fazenda's products are available in the Netherlands through retailer Marqt, while in Dubai the products can be found in specialised organic and vegan e-commerce stores. The company should be present in all major retailers in those destinations by year-end, the spokesperson said.